Edda Wind Takes Delivery of Hydrogen-Ready SOV Destined for Seagreen
Edda Wind has taken delivery of its service operation vessel (SOV), Edda Brint, from Spain's Astilleros Balenciaga .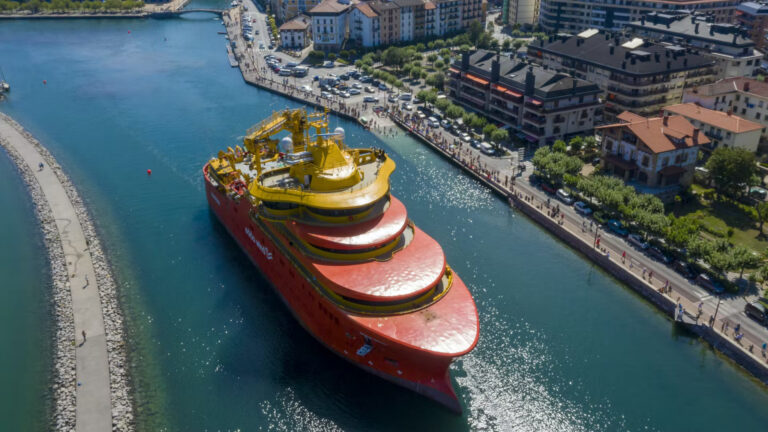 Edda Brint is the second vessel delivered as part of a seven-vessel newbuilding programme.
This is the first of two SOVs Astilleros Balenciaga is building for Edda Wind. The second SOV, Edda Goelo, will be delivered to Edda Wind from the same yard in the second quarter of 2023 when it will commence a five-year contract in France in the autumn.
The 82.9 metre-long Edda Brint, launched in 2021, has an accommodation capacity of up to 60 people, a motion-compensated gangway system, and will feature a propulsion system that allows for future installation of zero-emission hydrogen technology.
"Edda Brint is the first SOV in the world prepared with a hydrogen-based energy system planned for four weeks endurance. In principle, this means that this vessel in a few years' time is capable of supporting the construction and commissioning of wind farms without generating carbon emissions", said Kenneth Walland, CEO of Edda Wind.
The new SOV will start the installation of the motion-compensated gangway system after leaving the yard in Spain, and begin a 15-year contract with Vestas at the Seagreen offshore wind farm in Scotland in January 2023.
In addition to Edda Brint and the five vessels – four Commissioning Operation Vessels (CSOVs) and one SOV – currently under construction, Edda Wind owns and operates two SOVs, Edda Passat and Edda Mistral, and one CSOV Edda Breeze.
The SOVs are both on contract to Ørsted on offshore wind farms in UK and Edda Breeze will start its operations for Ocean Breeze in Germany in January 2023.
Under the current fleet expansion programme, Edda Wind's fleet will consist of nine vessels by 2024, whereof five newbuilds will start operations in 2023.
Follow offshoreWIND.biz on: