Haizea, SPIE Inaugurate New Saint-Brieuc Assembly Site in Brest
Haizea Wind Group and SPIE Industrie & Tertiaire inaugurated their assembly site at the Brest polder on 6 October. The site is housing the final outfitting of the 62 wind turbine towers for the Saint-Brieuc offshore wind farm in France.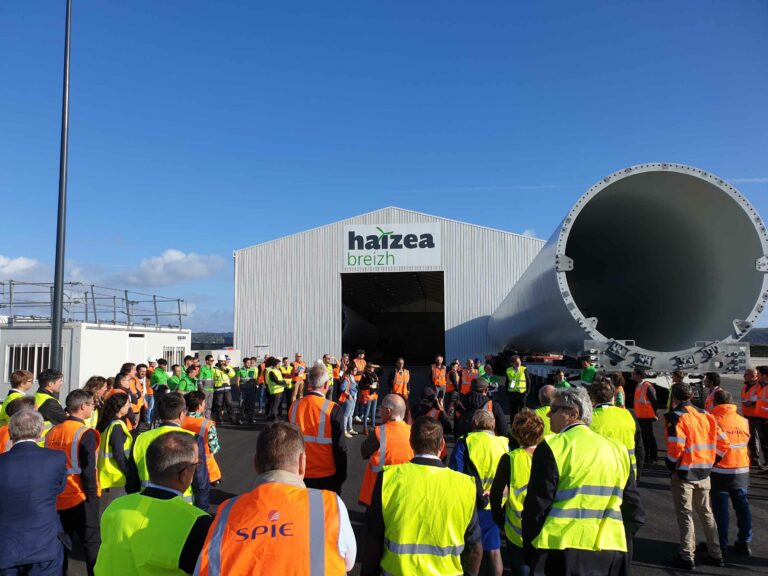 Haizea is manufacturing the towers at its factory in the Port of Bilbao, Spain, and then shipping them to the workshop in the Port of Brest, where the assembly of the internal components such as platform, cables, and ladders is being performed by SPIE.
The towers have already started arriving in the Brest polder, from where they will then be shipped to Siemens Gamesa's factory in Le Havre, starting this month, according to earlier information about this part of the project.
This new activity will mobilise 40 jobs for 18 months on Haizea and SPIE's site, which is the second industrial facility established at the Brest polder on the initiative of Ailes Marines, a subsidiary of the Iberdrola and the developer of the 496 MW Saint-Brieuc project.
In 2020, production started at the site where Navantia-Windar established some of the manufacturing operations for the construction of jacket foundations, with 250 jobs mobilised over the last two years.
With the tower assembly site now in operation, the Saint-Brieuc offshore wind project now mobilises approximately 550 jobs in Brittany alone, out of a total of more than 1,500 jobs in France, according to Ailes Marines.
The Saint-Brieuc offshore wind farm is located 16 kilometres off the northwest coast of France in the Bay of Saint-Brieuc in the English Channel.
The 496 MW project, planned to be commissioned next year, will comprise 62 Siemens Gamesa 8 MW wind turbines and will be the first offshore wind project in France to have them installed on jacket foundations.
Follow offshoreWIND.biz on: