SPIE to Outfit Haizea's Saint-Brieuc Wind Turbine Towers
Haizea Breizh, the French subsidiary of the Spanish wind turbine tower producer Haizea Wind Group, has contracted SPIE Industrie & Tertiaire for the assembly of internal components on the 62 towers for the Saint-Brieuc offshore wind farm at Haizea's facilities in the Port of Brest.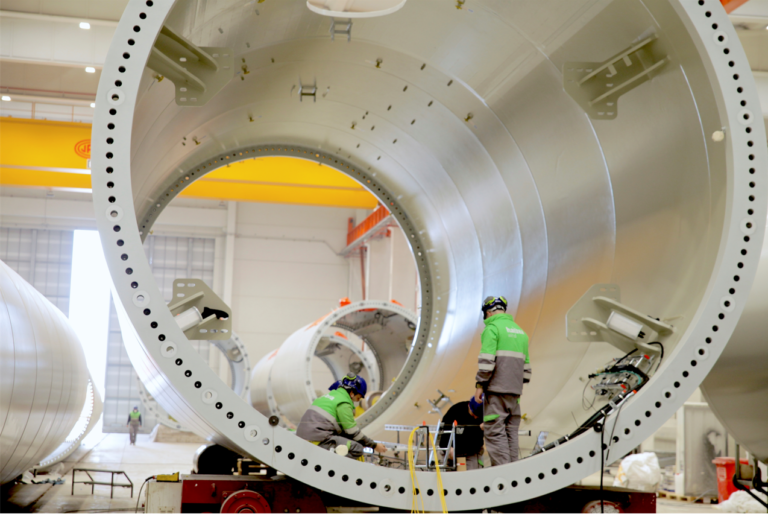 The wind turbine towers will be manufactured and painted at Haizea's factory in the Port of Bilbao, Spain, and then shipped to the workshop in the Port of Brest, where the assembly of the internal components such as platform, cables, and ladders will be performed.
Under the contract, SPIE Industrie & Tertiaire, a subsidiary of SPIE France, will be responsible for assembling the internal components of the wind turbine towers and for operating the facility in the Port of Brest. It has also been agreed that Aguado Wind France will provide their know-how regarding the assembly of offshore wind towers with an external team from the company training the local employees at the new site in order to provide them with the required knowledge to carry out the work.
Once completed, the towers will be delivered to Siemens Gamesa's factory in Le Havre, with shipments to commence in October.
To carry out the part of the tower manufacturing work in Brest, Haizea Breizh last month began working on the polder in Brest to install the new workshop, which will be operational by mid-August 2022.
Meanwhile, the jacket foundations for the 496 MW offshore wind farm are being shipped to France by Haizea's compatriots Navantia and Windar.
The production of jacket foundations in Fene is also supported from Brest, where part of the work is being done at the Navantia-Windar yard in the port.
The Saint-Brieuc offshore wind farm, developed by Iberdrola's wholly-owned subsidiary Ailes Marines, is the first large-scale offshore wind farm in Brittany to obtain all the necessary government permits for its construction and operation.
Offshore construction work is scheduled to be completed in 2023 and the wind farm is expected to be operational by the end of that year.
Once up and running, the Saint-Brieuc offshore wind farm, which will comprise 62 Siemens Gamesa 8 MW turbines, is expected to produce 1,820 GWh of electricity per year.
Follow offshoreWIND.biz on: