Siemens Gamesa and Ailes Marines Make Saint-Brieuc Order Official
Iberdrola's Ailes Marines and Siemens Gamesa have signed a contract for the supply of 62 Siemens Gamesa 8 MW wind turbines for the Saint-Brieuc offshore wind project.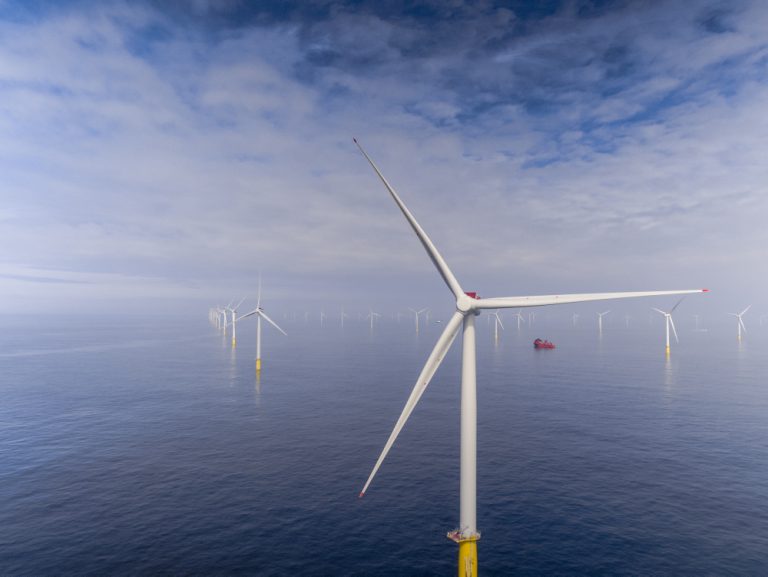 The contract marks the final investment decision on the EUR 2.4 billion project, Ailes Marines said.
The Saint-Brieuc wind turbines will be built in France, at Siemens Gamesa's bespoke industrial facility, located in the port of Le Havre, where blades, nacelles, and generators will be fabricated.
The site includes a logistics zone dedicated to the installation of offshore wind farm projects and will lead to the creation of 750 jobs that will begin manufacturing in 2021.
In addition, components of the wind turbine's foundations will be assembled in a dedicated eleven-hectare site at the Brest polder. The heavy-lift dock of the port of Brest, as well as potentially other French ports, will be used for pre-construction, logistics, and components transportation to the wind farm site.
The construction of the 496 MW Saint-Brieuc wind farm is scheduled to begin in 2021 and the wind farm is expected to be fully operational in 2023.
Jonathan Cole, Iberdrola's Global Managing Director for offshore wind, said: "Taking our final investment decision on a €2.4 billion offshore wind farm and finalising the largest contract for that project, shows that Iberdrola is delivering on our promises to press ahead with our record investment plans, to support our supply chain and to create thousands of sustainable jobs."
Located approximately 16 kilometres off the coast of Brittany, the Saint-Brieuc offshore wind farm will be equipped with SG 8.0-167 DD direct drive wind turbines.
Filippo Cimitan, President of Siemens Gamesa Renewable Energy France, said: "This signature is a key step in the implementation of Brittany's first offshore wind farm project and it is also one of the main pillars for the launch of our industrial project in Le Havre. It is great news for the ecological transition in France and in Brittany, as well as for the industrial restructuring and the creation of long-term sustainable jobs in those territories. We are proud to be Ailes Marines' partner in this genuine territorial project."