Seacat Services Takes Delivery of Next-Gen Crew Transfer Vessel
Seacat Services has taken delivery of the first of two BARTech 30 crew transfer vessels (CTVs) from marine engineering consultancy BAR Technologies.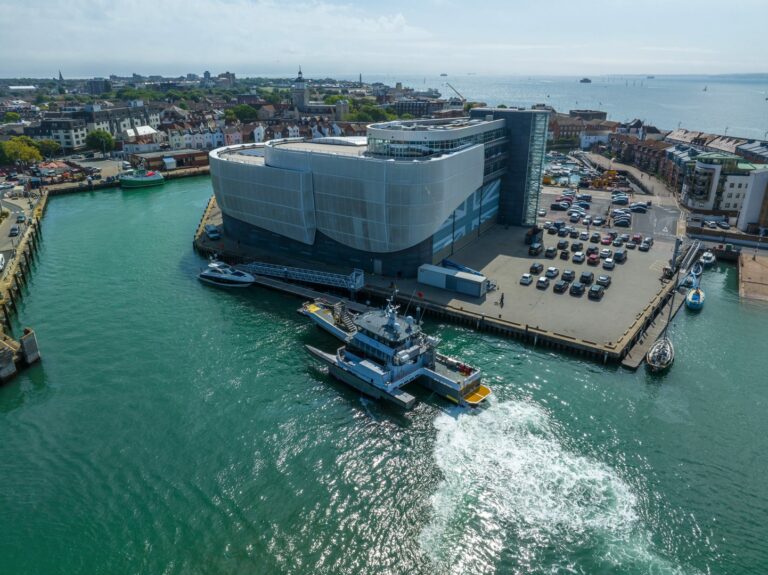 The handover took place at BAR Technologies premises in Portsmouth where the vessel was officially named Seacat Columbia by Seacat Services founder Ian Baylis and BAR Technologies chair Marin Whitmarsh.
With its 30m ProA design and active foiling systems to correct for pitch and roll, BARTech 30 is able to minimise vessel motion and fuel burn, leading to an average increase in stability across all sea states of up to 70 per cent and a reduction in total emissions of 30 per cent over a typical operational profile.
This makes the vessel one of the first Low Emission Vehicles (LEVs) serving the UK's growing fleet of offshore wind farms.
The company said that as the vessel is able to operate in more challenging conditions than the current catamaran designs, offshore wind turbines may be serviced over a greater number of sea states, ensuring that the wind farm owners have more opportunities to better and more cost-effectively provide turbine maintenance.
"We know that the offshore wind industry has led several innovations in cost reduction since its inception. We're now able to take this efficiency drive one step further with a vessel design not only able to operate in wider offshore parameters and presenting new savings in servicing and maintenance, but, also combined with a significant reduction in fuel consumption", said Martin Whitmarsh, Chair, BAR Technologies.
Seacat Services placed the order for the two CTVs in September 2020.
The vessels, Seacat Columbia and Seacat Cambria, were designed in partnership with Chartwell Marine and will feature Kongsberg propulsion systems.
Follow offshoreWIND.biz on: