Saipem 7000 Arrives in Bay of Saint-Brieuc for Offshore Substation Installation
The installation vessel Saipem 7000 and the jacket foundation for the Saint-Brieuc wind farm's offshore substation have arrived in the Bay of Saint-Brieuc ahead of installation work, which will begin once the topside – currently en route to the project site – also arrives in the French bay.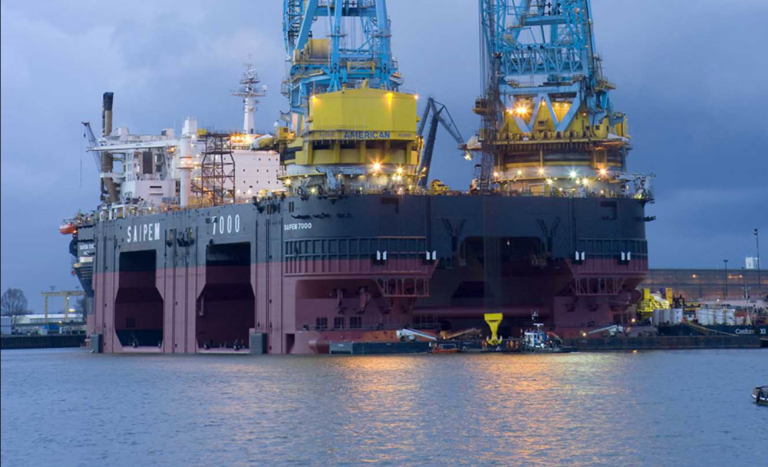 After the load-outs in June, both the substation topside and jacket for the Saint-Brieuc offshore wind farm left the yards in Belgium and the Nerherlands, respectively, at the end of the last month.
The developer Ailes Marines, a wholly-owned subsidiary of Spanish Iberdrola, selected a joint venture between Engie Solutions (now Equans) and Iemants (a subsidiary of Smulders) to manufacture the offshore substation for the Saint-Brieuc offshore wind farm in September 2020.
Smulders was responsible for the engineering and construction of the steel structures for both the topside and jacket, and Equans for the engineering, procurement, integration, construction and testing (on- and offshore) of all LV, MV, HV and auxiliary systems for the jacket and topside.
Final assembly of the topside took place at the Equans's yard in Hoboken, Belgium. The jacket was fabricated at the Heerema yard in Vlissingen, the Netherlands.
The 496 MW offshore wind farm is located in the Bay of Saint-Brieuc in Brittany, 16.3 kilometres from the Breton coast.
The wind farm will comprise will have 62 Siemens Gamesa 8 MW turbines which, once operational next year, will produce 1,820 GWh of electricity per year.
Follow offshoreWIND.biz on: