Saint-Brieuc Offshore Substation Ready for Installation
The offshore substation topside and jacket foundation for the Saint-Brieuc offshore wind farm have been loaded out onto vessels at their yards in Belgium and the Netherlands, respectively, and will soon be transported to France.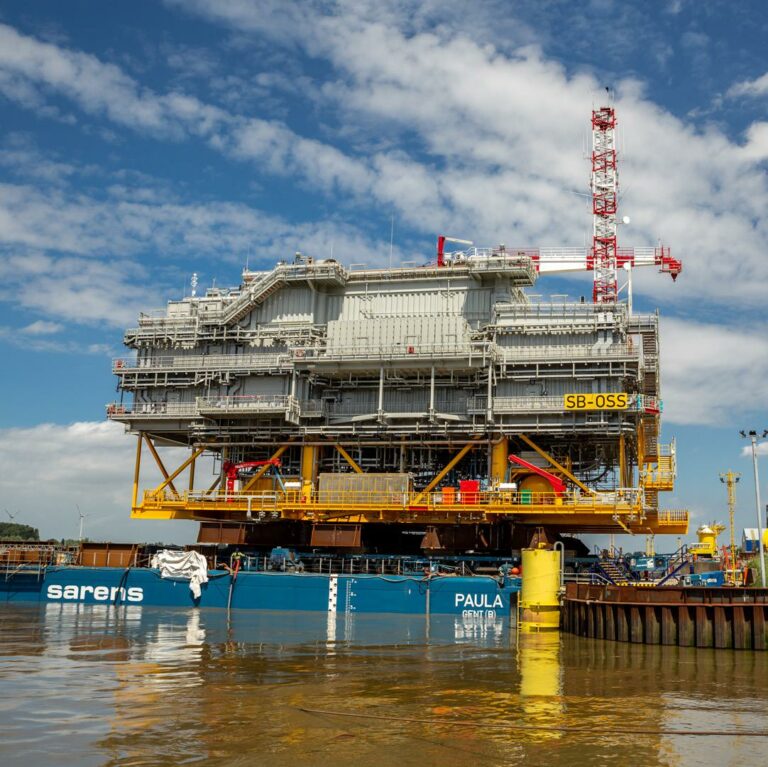 The load-out of the 3,400-tonne topside took place on 11 June at the assembly yard of Smulders's joint venture partner Equans in Hoboken, Belgium. The same day, the 1,600-tonne jacket foundation was loaded onto a pontoon from the yard of Heerema Fabrication Group in Vlissingen, the Netherlands.
"Following the successful load outs, the topside and jacket are as good as ready for transport to their final location. The sail away is planned for later this month, after which the installation will be take place 16.3 km off the coast of France", Smulders said in a press release on 13 June.
The developer Ailes Marines, a wholly-owned subsidiary of Spanish Iberdrola, selected a joint venture between Engie Solutions and Iemants (a subsidiary of Smulders) to manufacture the offshore substation for the Saint-Brieuc offshore wind farm in September 2020.
Under the contract, Iemants in charge of the engineering and construction of the upper part of the substation, housing the transformers and electrical equipment, as well as the foundation for the substation. ENGIE Solutions is responsible for the engineering, procurement, integration, construction and testing (on- and offshore) of all LV, MV, HV and auxiliary systems for the jacket and the topside.
The same year, Saipem was contracted to transport and install the electrical substation at the project site located 16 kilometers off the northwest coast of France in the Bay of Saint-Brieuc in the English Channel.
Offshore construction at the Saint-Brieuc site is well underway as the installation vessel Aeolus is installing pin piles that will support the jacket foundations, which are also soon to be installed.
The 496 MW offshore wind farm is expected to be completed in 2023 and is scheduled to be operational by the end of that year.
Follow offshoreWIND.biz on: