The operations and maintenance (O&M) base for the 500 MW Fécamp offshore wind farm in France was officially inaugurated on 28 June 2022.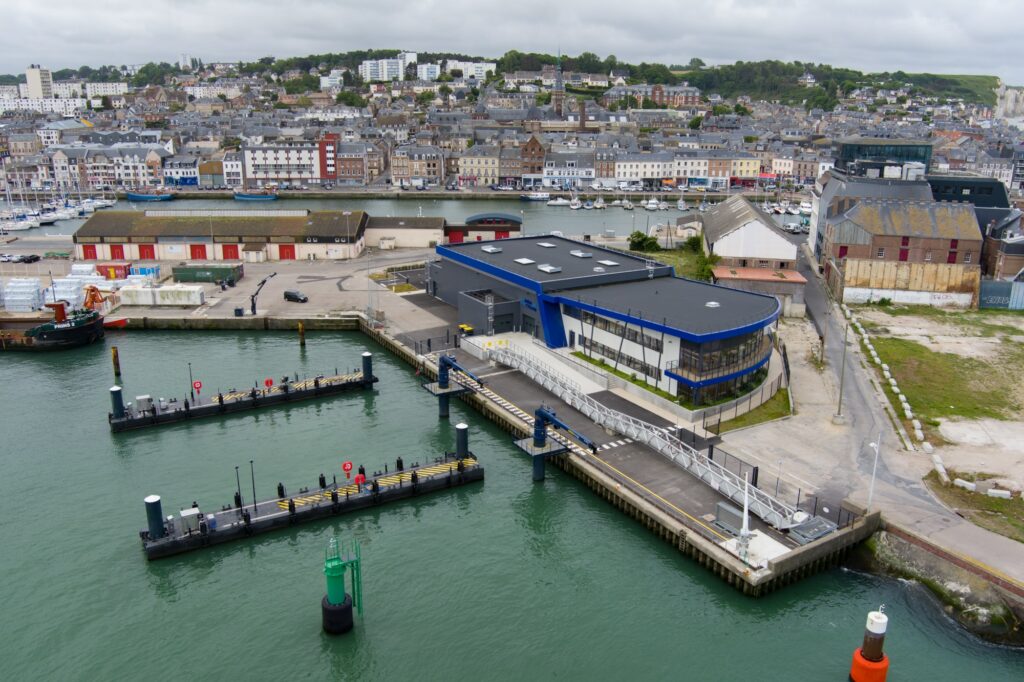 Located on the Coastal Fishing Quay side on the Grand Quai peninsula in Fécamp, the facility will first serve the construction of the wind farm, which is already well underway.
From 2023, the building will accommodate the wind farm's operation and maintenance teams.
The teams will carry out various missions from the facility on a daily basis including preventive and corrective maintenance of the installations, monitoring and optimisation of the wind farm's production as well as monitoring of weather conditions, intervention planning, and surveillance of access to the offshore wind farm.
Up to three crew transfer vessels (CTVs), manufactured by Manche Industrie Marine in Dieppe, will be moored at the base's pontoons to transport maintenance technicians to the offshore wind turbines.
The construction of the maintenance base, designed by Franc Architectures Group and built by Eiffage, started in 2020.
The building, with an area of approximately 2,000 square metres, consists of a control and telecommunications room, changing rooms, offices, and a warehouse area of 800 square metres to store the material necessary for the maintenance of the offshore wind farm.
According to EDF Renouvelables, 70 per cent of the construction work was carried out by companies from the Seine-Maritime department in the Normandy region.
The O&M base will employ around 100 people during the operating life of the wind farm. Recruitment has already started and will end in 2023.
The Fécamp offshore wind farm is being built by EDF Renouvelables, EIH Sarl, a subsidiary of Enbridge, and wpd.
The project will feature 71 Siemens Gamesa SWT-7.0-154 wind turbines, all of which will stand on gravity-based foundations, the first of which was completed at the Grand Port Maritime of Le Havre at the beginning of this year.
When commissioned at the end of 2023, the offshore wind farm will produce the equivalent of the annual electricity consumption of 770,000 people, or 60 per cent of the inhabitants of Seine-Maritime.
Follow offshoreWIND.biz on: