Fécamp Construction and Maintenance Base Starts Taking Shape
Construction has started on the operations and maintenance base for the Fécamp offshore wind farm in France, EDF Renouvelables said.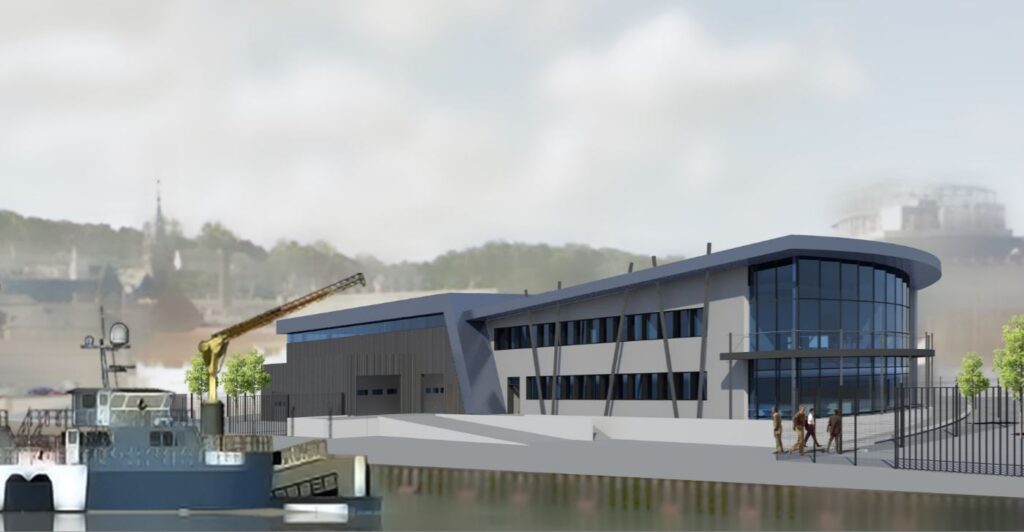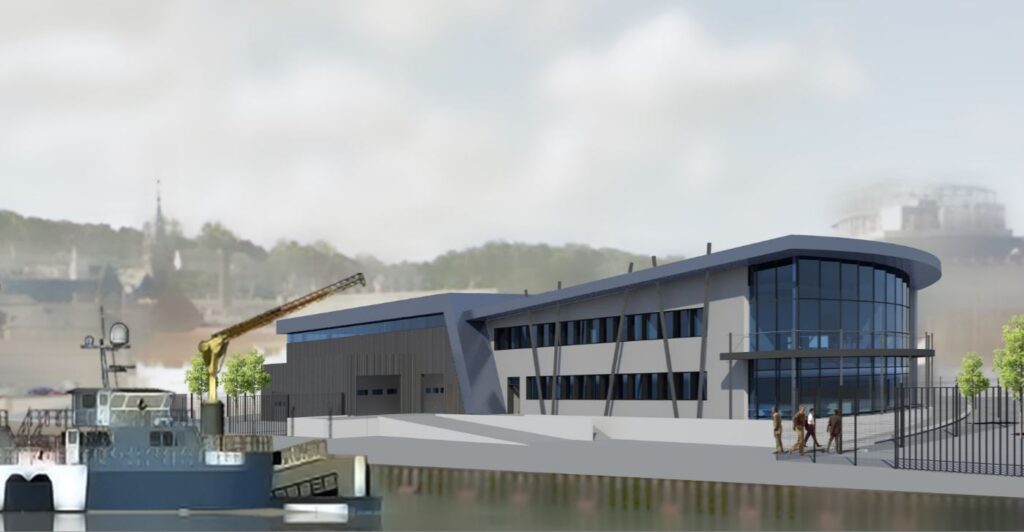 Located in Fécamp in the Seine-Maritime department in the Normandy region, the facility will first serve as the construction base for the 500 MW project, with the offshore construction work scheduled to start in 2022.
From 2023, the building will accommodate the wind farm's operation and maintenance teams. Up to three vessels will be moored at the base's pontoons to transport maintenance technicians to the offshore wind turbines, EDF Renouvelables said.
The construction of the maintenance base, which began earlier this month, is carried out by Eiffage and is expected to be completed in less than fourteen months.
With a surface area of ​​around 2,000 m², including 1,200 m² of offices and 800 m² of warehouse space, the building is located on the Coastal Fishing Quay side on the Grand Quai peninsula in Fécamp. The pontoon work will be carried out by ETPO's Le Havre agency. The pontoons will be manufactured by Manche Industrie Marine in Dieppe.
This base will employ around one hundred people during the operating life of the wind farm.
Developed EDF Renouvelables, Enbridge, and wpd Offshore, the Fécamp offshore wind farm will consist of 71 Siemens Gamesa SWT-7.0-154 offshore wind turbines located between 13 and 22 kilometres off the Normandy coast.
When commissioned at the end of 2023, the wind farm will produce the equivalent of the annual electricity consumption of 770,000 people, or 60 per cent of the inhabitants of Seine-Maritime.
"The maintenance base for the Fécamp offshore wind farm is the result of long-standing collaborative work with the municipality, local residents, port stakeholders and port users," Bertrand Allanic, Director of the Fécamp offshore wind farm project, said.
"About a hundred people will work there to carry out the operations and maintenance of the wind farm. It is therefore a great pleasure to build, here in Fécamp, one of the first maintenance bases for offshore wind power in France, which we will be delighted to inaugurate with the Fécamp residents within 14 months! "