Cost reduction and fabrication efficiencies for Jacket-based foundations
Neart Na Gaoithe Offshore Wind Project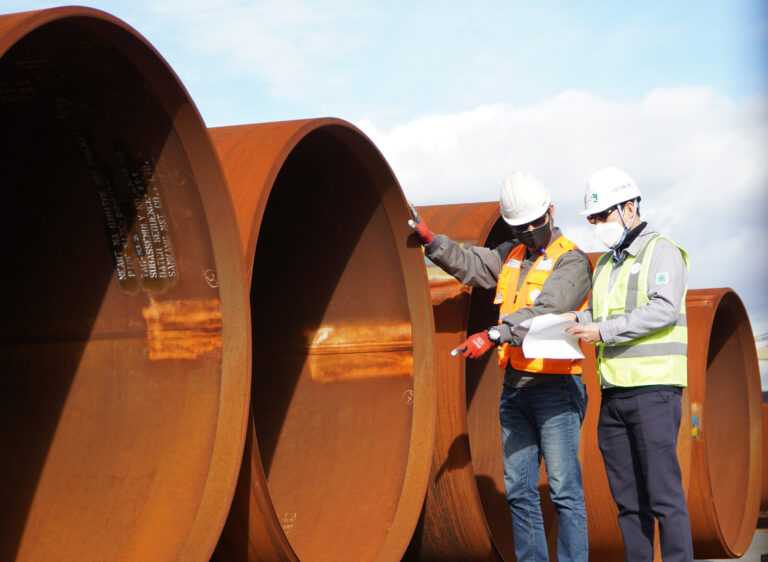 By Joost den Herder & Martin van der Meer
ArcelorMittal Energy Projects – Offshore Wind
For the 450MW Neart Na Gaoithe Offshore Wind Project, ArcelorMittal Energy Projects (Energy Projects) brought global partners from Europe and Asia together by supplying jacket tubular sub-assemblies.
Jacket-based foundations for offshore wind projects make use of large diameter steel tubulars for the jacket legs and bracings. Conventionally these welded tubulars are being supplied in single-length pieces with further processing and fabrication into jacket legs and bracings taking place at the offshore fabrication yard.
With simultaneous construction of jacket foundations in mind, and the goal of cost-saving on tubular steel and fabrication, Energy Projects supplied pre-fabricated jacket sub-assemblies. Keeping in mind that the fabrication yard needed to be fed, and sequential deliveries needed to take place, the biggest challenge was balancing the supply chain complexity and resilience of the delivery of 54 jacket foundations, each consisting of 1000 tons of steel tubulars.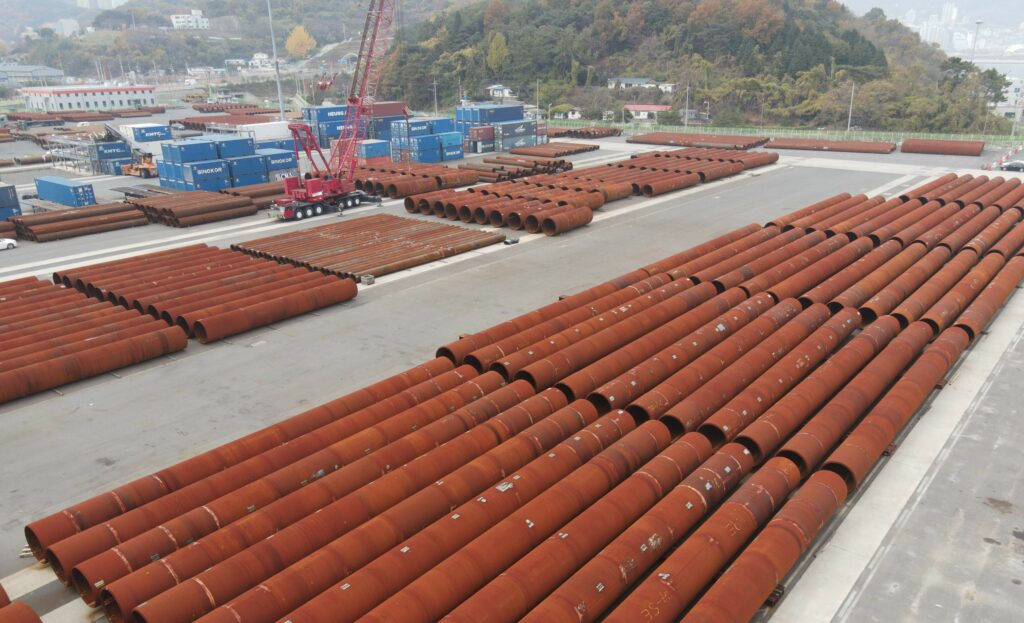 Connecting supply chains from Europe and Asia
The solution to tackle the projects' challenges involved the supply of heavy plates, project management, QA inspections, documentation management, and sub-supplier management.
The project was managed by its' dedicated project organisation in Europe and in South Korea.
In-depth knowledge of the technical capabilities of steel mills proved to be a key success factor for the project. Energy Projects was able to propose a technical solution while optimizing cost for the most critical heavy steel plates needed for this project. Supplying these plates from Europe and shipping these to Korea proved to be the right solution. Despite the disruptions in logistics in 2021, just-in-time deliveries could be guaranteed.
The full tubular sub-assembly scope has been produced and fabricated in South Korea by Energy Projects' highly experienced partner Samkang M&T. With its wide production range, all required tubular making, and pre-fabrication work could be done on-site.
Logistics hub
As plans are made to be changed, a dedicated hub with direct access to the sea was put in place to ensure optimum flexibility. According to the projects' needs, urgently required items could be shipped via containers, while the majority of the materials were shipped via bulk vessels. Moreover, deliveries were accelerated or slowed down based on the project's needs. Finally, a team of certified on-site QC inspectors ensured that all cargo was safely and correctly loaded.
Successful supply of 55.000 tons of steel
Once completed, the Neart Na Gaoithe wind farm will consist of 54 turbines and will provide power for around 375,000 homes in Scotland. To date, 35 offshore wind jacket foundations have been supplied by Energy Projects. This includes more than 35,000 tonnes of steel, delivered in multiple batches over a period of 10 months. Supplied sub-assemblies include tubulars with lengths up to 30 meters and single-piece weights up to 79 tonnes.

Besides the supply of steel for the jacket foundations, Energy Projects also supplied in total 20,000 tonnes of steel for the transition pieces, J-tubes, boatlandings, and access platforms for the project.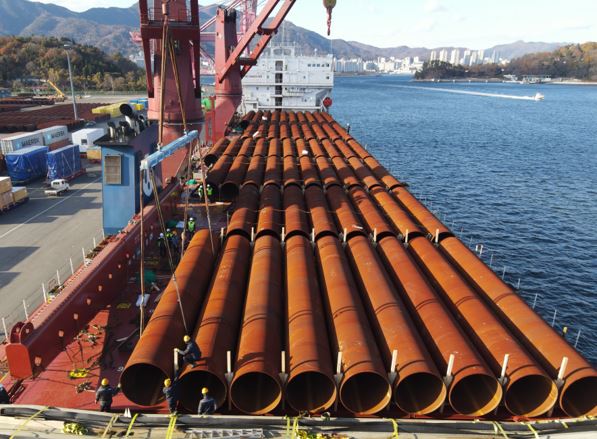 Steel solutions for a quickly evolving market
ArcelorMittal Energy Projects is part of the world's leading steel & mining company ArcelorMittal. With four million tonnes of total deliveries to the energy sector, Energy Projects is one of the world's largest and specialized global steel suppliers to this highly demanding and quickly evolving market.

For jacket-based foundations, Energy Projects provides various solutions across the globe, including:
Circular welded sub-assemblies for (partial) jacket legs and bracings
Assembled bracings including nodes and profiling of tubular ends
Cutting to specified lengths and transition weld preparation (tapering)
Completed pre-fabricated components including shear keys (weld beads), stiffeners, and marking

For more information, please visit our website or email us at [email protected]
ArcelorMittal Energy Projects, your partner for complete, customized & sustainable offshore wind structural steel packages.