The recently announced wind turbine installation vessel (WTIV) for which Singapore's Sembcorp Marine won a shipbuilding contract is now confirmed to have been ordered by Maersk, whose subsidiary Maersk Supply Service has just revealed that it signed a firm contract with a joint venture between Equinor and BP for the installation of the Empire 1 and 2 offshore wind farms in the US.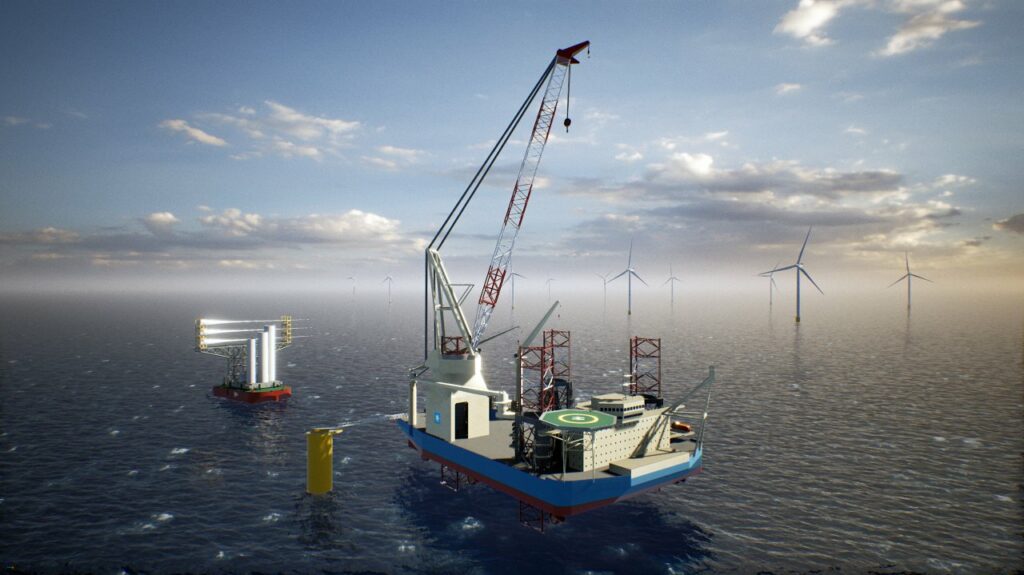 As reported last week, Sembcorp Marine informed that it had won a contract for the construction of a wind turbine installation vessel based on its in-house design in collaboration with its client which the Singaporean shipyard then left unidentified.
It has been revealed now that Maersk developed the vessel concept which will deliver installation of wind turbines by a Jones Act-compliant spread.
Empire Offshore Wind, the Equinor-BP joint venture, has chartered the vessel which, together with US constructed barges and tugs built and operated by Kirby Offshore Wind, will be used for the installation of the Vestas 15 MW turbines on Empire Wind 1 and 2 offshore wind farms in New York.
The newbuild vessel is planned to be ready for operation for the two projects in the mid-2020s, Empire Offshore Wind said.
According to Maersk Supply Service and Sembcorp Marine, the steel-cutting ceremony is set for Q4 2022 and the vessel is scheduled to be completed in early 2025.
Maersk's vessel will be supported by two newbuilt tugs and barges, which will transport the wind turbine components from the South Brooklyn Marine Terminal to the Empire Wind lease area offshore Long Island.
The barges and tugs will be constructed and operated by Kirby Offshore Wind, a subsidiary of Kirby Corporation. The concept ensures that the vessel can remain in operation while the barges transport turbine components from the staging port on a continual basis, Equinor and BP said.
"The Maersk concept will ensure efficient installation of the Empire Wind turbines by using a dock-in feeder solution, which will improve safety by reducing the number of offshore lifts. We are pleased that Maersk is also exploring the opportunity of using climate neutral fuels to operate the wind installation vessel", said Trond Gulichsen, project director for Empire Wind.
Empire Wind, for which Equinor acquired the lease in 2017 and is developing it in two phases, is located 15-30 miles (24-48 kilometres) southeast of Long Island, in water depths of 65-131 feet (20-40 metres).
The project's two phases have a total installed capacity of more than 2 GW.
The 816 MW Empire Wind Phase 1 wind farm was selected in New York's first-ever offshore wind solicitation in 2019 alongside Ørsted and Eversource Energy's Sunrise Wind project.
At the beginning of last year, New York selected the joint venture as the winner of the state's second offshore wind solicitation, in which the two partners participated with two projects: the 1,260 MW Empire Wind 2 and the 1,230 MW Beacon Wind 1.
Follow offshoreWIND.biz on:
Photo: Maersk Supply Service