Equinor and BP Win Big Offshore New York
The New York State Energy Research and Development Authority (NYSERDA) has selected the partnership of Equinor and BP as the winner of the state's second offshore wind solicitation.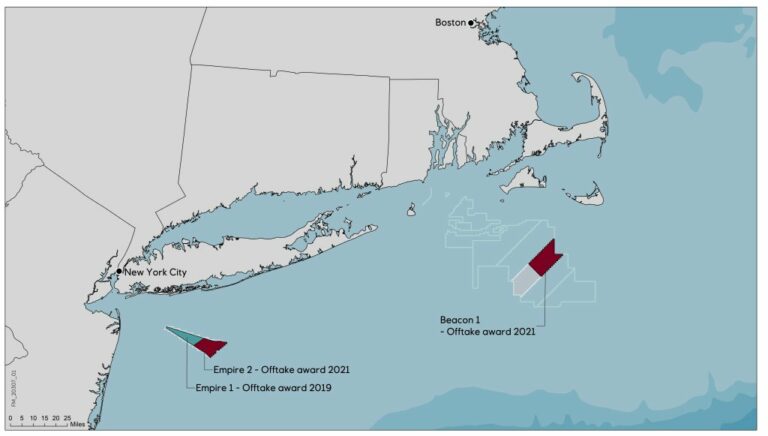 Under the award, Equinor and incoming strategic partner BP will develop the 1,260 MW Empire Wind 2 and the 1,230 MW Beacon Wind 1 offshore wind projects.
The execution of the procurement award is subject to the successful negotiation of a purchase and sale agreement.
Equinor and BP will also partner with the State of New York to transform the South Brooklyn Marine Terminal (SBMT) and the Port of Albany into large-scale offshore wind working industrial facilities.
"The U.S. East Coast is one of the most attractive growth markets for offshore wind in the world. The successful bids for Empire Wind 2 and Beacon Wind 1 represent a game-changer for our offshore wind business in the U.S. and underline Equinor's commitment to be a leading company in the energy transition," said Anders Opedal, CEO of Equinor.
The State of New York launched its second offshore wind solicitation in July 2020, seeking up to 2,500 MW of projects.
Equinor is already developing the 816 MW Empire Wind Phase 1 wind farm which was selected in New York's first-ever offshore wind solicitation in 2019 alongside Ørsted and Eversource Energy's Sunrise Wind project.
Empire Wind is located 15-30 miles southeast of Long Island and spans 80,000 ha, with water depths of between 65 and 131 feet. The lease was acquired in 2017 and is being developed in two phases.
Beacon Wind is located 60 miles east of Montauk Point and 20 miles south of Nantucket and covers 128,000 ha. The lease was acquired in 2019 and has the potential to be developed with a total capacity of more than 2.4 GW.