Equinor, BP and New York City Launch South Brooklyn Marine Terminal Transformation
The New York City Mayor, Eric Adams, has announced that plans for transforming the South Brooklyn Marine Terminal into a major staging and assembly facility for offshore wind and an operations and maintenance (O&M) base for the Empire Wind and Beacon Wind projects are moving forward.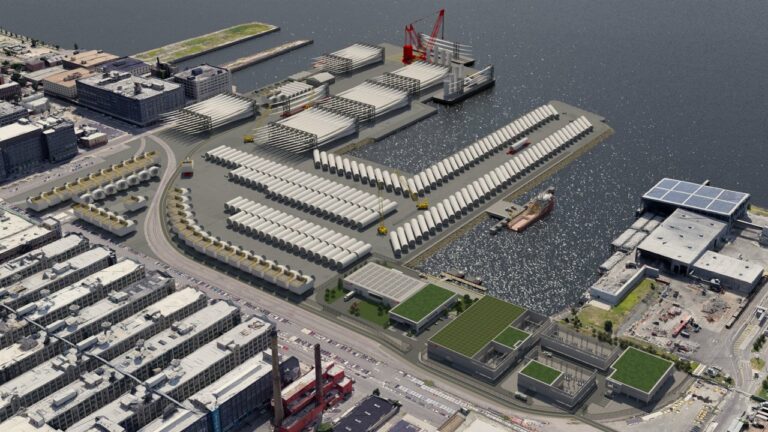 Under an agreement now finalised by the New York City Economic Development Corporation (NYCEDC), Equinor, its partner BP, and Sustainable South Brooklyn Marine Terminal (SSBMT) will upgrade and build out the terminal as an operations and maintenance base.
The terminal will become a power interconnection site for the Empire Wind 1 project, and heavy lift platforms will be built on the 39th Street Pier for wind turbine staging and installation for Equinor and other developers. The port will serve as a hub to support the Empire Wind and Beacon Wind offshore wind farms.
"The design and engineering is already underway with construction starting to begin next year. By 2025, we will be putting together the turbines right here at this site and getting ready to install them off the coast of Long Island", Mayor Eric Adams said.
The offshore wind farms will create 13,000 local jobs over time – 1,000 at South Brooklyn Marine Terminal alone – produce enough power for 2 million homes, and are expected to generate USD 1.3 billion in average annual investments city-wide.
"This is an amazing opportunity for our city. This is going to be an anchor location for not only green jobs, but green dollars, to put in the pocket of everyday New Yorkers".
The city has committed USD 191 million, including USD 57 million in support of SBMT and USD 134 million in new investments, and expects these initiatives to remove more than 34 million tons of CO2 from the environment while creating 13,000 jobs related to offshore wind infrastructure across the five New York City boroughs.
"We want sustainability and equity to go hand in hand. So we're going to make sure that this USD 191 million investment in offshore wind is also an investment in all New Yorkers", the Mayor said.
Mayor Adams pointed out that at least 40 per cent of the jobs and investment will be directed towards women, minorities, and environmental justice communities.
"We'll work with Equinor and other offshore wind firms to ensure that our local schools in this community and throughout the city, that they are trained, the workforce that we need for the future, our colleges, and other young people will know how to experience these jobs. All the jobs will impact good middle class living and ensure that people are able to benefit from this investment that we're making".
Equinor also committed to establishing a USD 5 million fund to bring more New York City residents into offshore wind careers, propel offshore wind innovation, and support a just transition. Finally, Equinor is working to establish an offshore wind learning center – accessible to the community –within its Brooklyn office.
The Mayor was joined by New York City officials and representatives from NYCEDC, Equinor, BP, and SSBMT at the formal announcement of the agreement at the South Brooklyn Marine Terminal on 3 March.
Port upgrades to transform South Brooklyn Marine Terminal into a staging and assembly facility, and an O&M base were part of the Empire Wind 2 and Beacon Wind 1 project proposals Equinor and BP submitted in the 2021 offshore wind power solicitation in the State of New York, which selected the two projects in January last year.
A year later, Equinor and BP finalised the Purchase and Sale Agreements (PSAs) with the New York State Energy Research and Development Authority (NYSERDA) for the two offshore wind farms.
Empire Wind 2 will provide generation capacity of 1,260 MW and further 1,230 MW will come from Beacon Wind 1.
Along with the two gigawatt-scale offshore wind farms, Equinor and BP are also developing the 816 MW Empire Wind Phase 1 wind farm which was selected in New York's first-ever offshore wind solicitation in 2019 .
The three wind farms are said to be capable of producing enough electricity to power about 2 million households.
Empire Wind, for which Equinor acquired the lease in 2017 and is developing it in two phases, is located 15-30 miles (24-48 kilometres) southeast of Long Island, in water depths of 65-131 feet (20-40 metres).
Beacon Wind is located 60 miles (almost 97 kilometres) east of Montauk Point and 20 miles (32 kilometres) south of Nantucket. The lease was acquired in 2019 and has the potential to be developed with a total capacity of more than 2.4 GW.
Currently, five offshore wind projects are in active development offshore New York. Along with Equinor and BP's three, these include the state's first offshore wind farm under construction, South Fork Wind, and the Sunrise Wind project, both developed by Ørsted and Eversource Energy.