Two New CTVs for Ørsted's Offshore Wind Farm En Route to Taiwan
Two Opus Marine's crew transfer vessels (CTVs) chartered by Ørsted for its Greater Changhua offshore wind farms are now on their way to Taiwan after being sent of the Penguin shipyard in Singapore.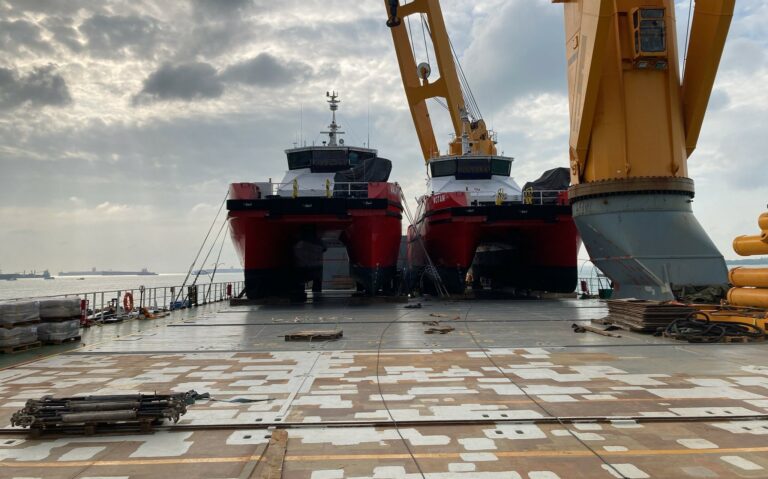 The two vessels, named Valkyrie and Wotan, are currently being transported on a heavy lift carrier from to the Taiwanese port of Kaohsiung.
The 27-metre CTVs, which will sail under the Taiwanese flag for Opus Marine's subsidiary in Taiwan, are of the Windflex-27 design from Incat Crowther, first of this design to be built by Penguin Shipyard which has two more under construction.
Opus Marine and Incat Crowther announced last year the two vessels would be working on Ørsted's project in Taiwan.
Valkyrie and Wotan's have a deadweight capacity in excess of 50 tonnes and feature two working decks. A large working deck forward can accommodate up to 4 x 10ft containers or 2 x 20 ft and is equipped with a deck crane. The aft deck can accommodate a 10ft container. Both decks feature multiple tie-down points for flexibility, according to Incat Crowther.
The main deck passenger space is large and open, with forward visibility, seating up to 24 personnel in business class seats, according to their designer.
The CTVs are powered by quad Scania DI16 077M, with each engine producing 662 kW. Propulsion is via quad Hamilton 521 waterjets, enabling the vessel to achieve speeds of up to 30 knots. The waterjets utilize Hamilton's JETanchor system fitted as standard.