Scotland's New Floating Wind Projects – What We Know So Far
Scotland made headlines yesterday (17 January) by awarding seabed lease rights to 17 offshore wind projects totalling almost 25 GW in capacity, well beyond the expected 10 GW, and by the fact that more than half of this massive capacity is coming from floating wind farms.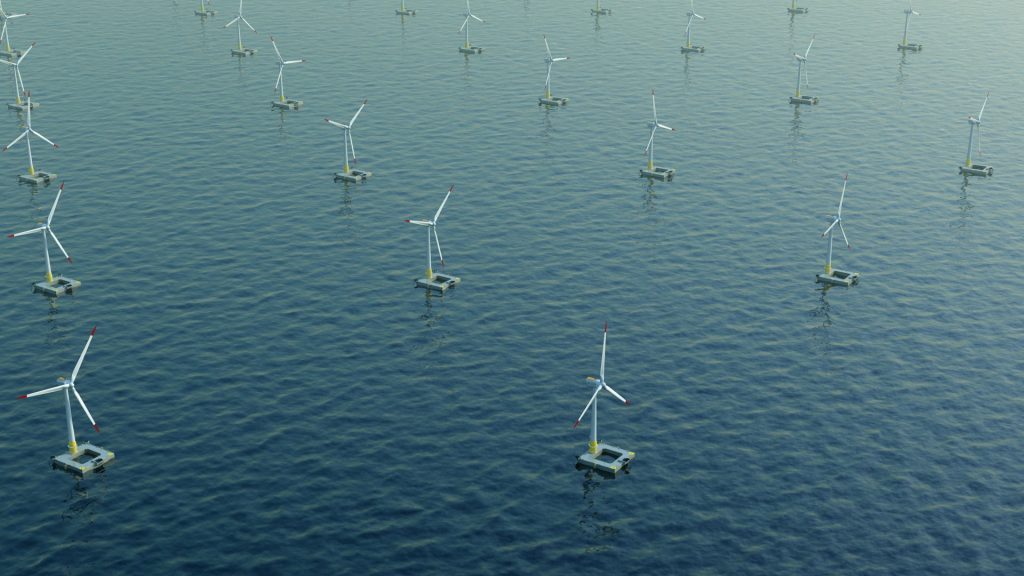 With many details about the selected proposals yet to be made known – just like the developers' supply chain commitments which will be published once option agreements are officially signed this Spring – what we know so far about the floating wind projects is that the total capacity they account for is 15,071 MW of the total 24,826 MW, along with some of the project details the developers released yesterday as well as during the ScotWind application period.
Magnora's Wind Farm All About Floating
The list of the selected ScotWind projects released by Crown Estate Scotland notes that Magnora Offshore Wind's wind farm is planned to use 'mixed' technology, meaning both bottom-fixed and floating foundations would be utilised.
However, according to a press release from the company, issued on 17 January, the 495 MW project is planned to comprise 15 MW wind turbines on 33 semi-submersible floating foundations, which makes up for the entire project capacity.
In a statement to OffshoreWIND.biz, Magnora confirmed that the wind farm was indeed planned with only floating foundations. The base case in the application for the project's substation, however, is bottom-fixed, with subsea substation and floating substation as optional alternatives.
With this in mind, the combined capacity of the floating projects chosen in this ScotWind round stands at 15,071 MW and – with a total of eleven chosen wind farms planned to have floating wind turbines – floating wind has marked an even bigger win than at the first look as it accounts for almost 65 per cent of the total number of projects selected.
Area N3, for which Magnora Offshore Wind (a partnership between Magnora and TechnipFMC) won the rights, is situated in the north-western part of Scotland, 40 kilometres offshore Western Isles. The planned wind farm will cover an area of approximately 100 square kilometres in water depths of between 106 and 125 metres.
The ambition is to achieve full consent in 2026, reach the final investment decision (FID) in 2028, and start production in 2030, said the company, whose ScotWind application is supported by Stornoway Port Authority, Kishorn Port, and DNV.
According to earlier information on Magnora Offshore Wind's bidding in the ScotWind auction, the joint venture had submitted two applications, both focused on floating wind.
The Biggest ScotWind Floating Wind Projects
A consortium comprising Shell and Iberdrola's Scottish arm ScottishPower Renewables, and SSE Renewables-led consortium with Marubeni and Copenhagen Infrastructure Partners (CIP) are planning to build the world's biggest floating wind farms in Scotland.
The Shell-ScottishPower partnership is offered option agreements for two floating wind projects with a combined capacity of 5 GW, which the partners now revealed are named MarramWind and CampionWind.
Located 75 kilometres off the North East coast of Scotland, in water depths averaging 100 metres, the proposed MarramWind floating offshore wind farm will have an installed capacity of 3 GW.
The CampionWind project, to be built 100 kilometres offshore the east coast of Scotland, in water depths averaging 77 metres, is planned to have 2 GW of installed capacity.
The two projects, which will be among the world's first large-scale floating offshore wind farms, will be using "innovative technology to install turbines further from shore", according to the developers, who told offshoreWIND.biz that more information about this would be released in due course.
The SSE Renewables-Marubeni-CIP partnership has won rights to 858 square kilometres of seabed in the E1 Zone in the Firth of Forth off the Angus Coast. The site, where SSE and partners plan to build a 2,610 MW floating offshore wind farm, is one of the largest lease areas to be offered by Crown Estate Scotland to any bidder in the ScotWind process.
The consortium has not revealed and specifics about its wind farm, expect that with 2.6 GW it will be capable of powering almost 4.3 million Scottish homes and offsetting around 5 million tonnes of carbon emissions each year.
Falck Renewables & Co Dominating the Floating Wind List
The partnership between Falck Renewables and BlueFloat Energy has been offered option agreements for a total of three projects with a combined capacity of up to 3 GW, with one of the projects marking the first time the world's leading offshore wind developer Ørsted has won a floating wind tender.
The 1 GW project, selected for the offered area NE3, will be located off Caithness, around 50 kilometres east of Wick and it is Ørsted's first large-scale floating wind development project anywhere in the world, as well as the company's first offshore wind project in Scotland.
Falck and BlueFloat have also been granted leases for a site east of Aberdeen (area E1) and a site north of Fraserburgh in (area NE6). The projects are listed by Crown Estate Scotland as having 1,200 MW and 500 MW. However, Falck Renewables said the three areas it was selected for could accommodate a total of approximately 3 GW of offshore wind capacity.
The company said the projects are scheduled to be operational by the end of the decade, subject to securing consent, commercial arrangements and grid connections.
In January 2021, when they formed the ScotWind partnership, Falck and BlueFloat said they planned to deploy the semi-submersible floating concrete structure, OO-Star Wind Floater, developed by Dr.techn. Olav Olsen and owned by Floating Wind Solutions AS.
Last year, Falck and BlueFloat entered into co-operation with Energy4All to work on opportunities for Scottish communities to own a stake in the consortium's offshore wind projects in Scotland.
As part of the preparatory work to deliver the offshore wind projects the consortium will collaborate with Energy Skills Partnership Scotland (ESP) to help train up a skilled workforce in time for construction to begin.
Research will also be carried out with the Scottish Association for Marine Science (SAMS) to investigate the potential effects of floating offshore wind developments on the marine environment, the consortium said.
BW Ideol's Secures Revenue from Joint Project
The Floating Energy Allyance (FEA), a development partnership comprising BayWa r.e., Elicio, and BW Ideol, was awarded an option agreement to build a 960 MW floating wind farm in the area designated as NE8 in the Scottish Government's Sectoral Marine Plan for Offshore Wind, located some 75 kilometres to the northeast of Fraserburgh on the Aberdeenshire coast.
BW Ideol signed an engineering service agreement and a technology licence agreement with FEA on 14 January 2022, securing revenues in relation to the project over the coming years.
According to a press release from BW Ideol, FEA expects to enter into an Option Lease Agreement with Crown Estate Scotland by April and the consortium will now seek to re-engage with key stakeholders, step up environmental surveys and progress further work on design as it moves towards developing detailed proposals for the project ahead of applying for consent.
Paul de la Gueriviere, CEO of BW Ideol, said the company will continue with its plans to create a manufacturing hub in the north of Scotland as illustrated by the strategic partnership agreement signed between BW Ideol and the Port of Ardersier in September 2021.
"This award underlines the pertinence of our co-development model and shows once again how BW Ideol's unique value proposition contributes to a winning and differentiating bid. We strongly believe that a credible execution and industrialization plan, accurate cost assumptions, a proven and bankable technology, and the option to manufacture our concrete floating foundations locally will contribute to our project's successful execution", Paul de la Gueriviere said.
Vattenfall and Fred. Olsen Have a Deal with Orkney Harbour Authority
Fred. Olsen Seawind and Vattenfall have won the rights to develop an offshore wind farm site located 67 kilometres off the east coast, where they plan to build a floating wind farm with a capacity of up to 798 MW.
The partnership said it would now continue to progress environmental studies, alongside embarking upon public consultation and the full Environmental Impact Assessment (EIA) process.
In October 2021, the companies announced that they had signed Memoranda of Understanding (MoUs) related to their ScotWind project with two Orkney offshore service providers, Green Marine and Leask Marine, and Orkney Harbour Authority.
The agreements will facilitate the development of local suppliers, enable the creation of highly skilled jobs, and maximise the opportunities that offshore wind can bring to the area, according to the developers.
The three MoUs will see the local suppliers work collaboratively to deliver large scale offshore wind contracts and focus on committing to utilise local skills and services, whilst supporting the local businesses to expand and be ready for future business demands, including preparing for the purchase of new assets and training staff in key skills areas.
The planned investment in these local businesses will also help to ensure that they can be lead suppliers on developments undertaken by the partnership locally as well as by wider industry across Scotland, the two ScotWind partners said.
DEME and Qair to Develop 1 GW Floating Wind Farm in Two Phases
Thistle Wind Partners (TWP), a consortium comprising DEME Concessions, Qair Marine, and Aspiravi International has been awarded a site in the NE2 plan option area, where it plans to develop a 1 GW floating wind project, called Cluaran Ear-Thuath, in two phases.
In the coming months, TWP will be actively engaging with government authorities, fellow developers, communities, and businesses, to fully understand local capabilities and define ways to work together, with a particular focus on breaking down barriers to new entrants to the job market, creating new skilled and energy transition jobs, and ensuring through investment that Scottish ports are ready and in the best position to seize an offshore wind pipeline of opportunities, the consortium said.
Back in September 2021, the consortium said it would also actively explore the role of green hydrogen in its projects in Scotland. It is unknown at this moment whether this is still the plan and whether it concerns the floating with farm, since TWP also won the rights for a bottom-fixed project.
Canadian Developer Offered Option for 1.5 GW Floating Wind Farm
Northland Power has been selected for the N2 option area, where it plans to develop a 1.5 GW floating wind project.
The company, which also won an option for an area where it will developed a bottom-fixed project, said it would now bring forward its development plans in line with the successful bid and will include accompanying supply chain commitments.
"An important first step will be the appointment of a Scotland-based supply chain and skills manager who will work with Scottish businesses and enterprise agencies. This builds on work done to-date by Highlands and Islands Enterprise (HIE) in establishing a renewables-based supply chain to further develop local capabilities that can serve these projects long term", Northland Power said in a press release.
There are no details available for the project being developed by the Canada-based renewable energy company, except that its ScotWind application has been supported by Arcus Consultancy Services and Worley Europe.