The Connecticut Port Authority Board of Directors has authorized a notice to proceed to its construction manager to begin permitted dredging activities at its State Pier Improvements Project in New London.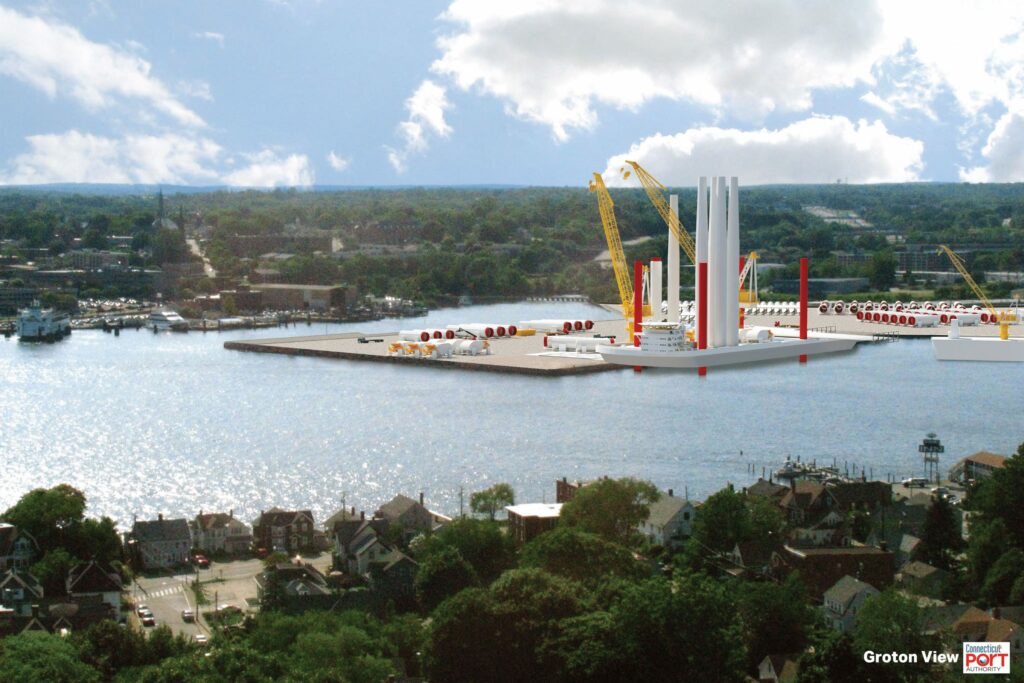 The Department of the Army through the US Army Corps of Engineers (USACE), New England District, issued to the Connecticut Port Authority a Department of the Army Permit for activities in waters of the United States in conjunction with the project on 16 December.
With all in-water work permits now in hand, the Connecticut Port Authority is able to complete all planned construction activities at the State Pier.
Back in February 2020, Ørsted and Eversource finalised a harbor development agreement with the Connecticut Port Authority to redevelop State Pier in New London into a heavy-lift capable port facility that will accommodate a wide variety of cargoes, including wind turbine generator staging and assembly.
Following the completion of the infrastructure upgrade project, the Ørsted and Eversource joint venture company will enter into a ten-year lease agreement, which will allow it to use State Pier for wind turbine generator pre-assembly and staging to power their Revolution Wind, Sunrise Wind, and South Fork Wind projects with a combined capacity of more than 1.7 GW, including 304 MW coming to Connecticut through Revolution Wind.
"This project positions New London to become the premier commercial east coast hub for the offshore wind sector," Connecticut's Governor Ned Lamont said.
"Connecticut remains a leader in the transition to renewable energy and the fight against climate change. This exciting opportunity was enabled by the efforts of the Connecticut Port Authority and remains supported by a project management team composed of leadership and staff from our administration. The local investment, job growth, and development opportunities associated with this project are real, as evidenced by the Economic Development Administration's recent announcement of a competitive grant award supporting the offshore wind supply chain to the South Eastern Connecticut Enterprise Region. I am proud to see this project advancing, and I am especially proud of our private sector partners working with us to make this project a reality."
This final permit specifically allows for in-water work including dredging deeper berths at State Pier and the Northeast Quay, reconstruction of a portion of the State Pier into a heavy-lift pad to support cargo, and the formation of an additional 7+ acres of upland area to expand the amount and types of cargo that can be handled through the facility.
"With the in-water work fully permitted, the construction begun earlier this year can now continue with full scope in 2022," said the Connecticut Port Authority board chair David Kooris.
"The completion of these public facility improvements that have been planned for decades, enabled by the private capital contributions and long-term lease of the facility positions the Authority and our partners Gateway, Orsted and Eversource to achieve maximum utilization of the facility in 2023 and to start an exciting new chapter for the Authority, State Pier and the commercial maritime sector in New London."
Photo: Connecticut Port Authority