The Return of the Tripod – Foundation Specialists See an Opening
Sif, KCI, and Smulders have teamed up to jointly develop a new product line called 'The revival of the Tripod'.
The Tripod foundation concept was last deployed offshore at Global Tech 1 wind farm in the German North Sea around eight years ago.
The concept on its own was abandoned as a 'live' foundation of choice since then, because it was not competitive against the monopile at the water depths used in that era.
According to Sif, times have changed since then and with bottom fixed foundations being deployed at ever greater water depths in the northern North Sea basin, monopiles are being selected up to 50-60 metres of water depth and jackets as the complementary foundation of choice from those or greater water depths.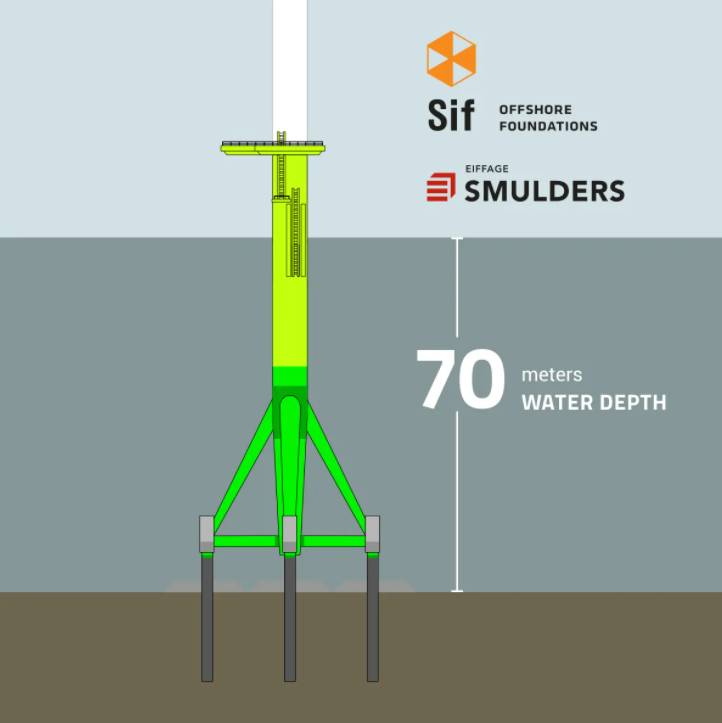 The Tripod is said to have some specific advantages compared with the monopile and the jacket at water depths of 50 metres or greater as it is a sturdier construction than the monopile and easier to manufacture than a jacket.
It will have its own specific niche and application in addition to those of the jacket and the monopile respectively. With its robust history in the German market, bankability of the revived Tripod should be less of a challenge compared with floating wind or other completely new foundation concepts, Sif said.
The Tripod will be jointly marketed in JV by Smulders and Sif. Production will take place in Roermond (the central column) and at the Smulders Wallsend site for the final integration.
"We are very happy with the KCI developed Tripod design. It is the second innovation next to our Skybox design that we have developed since Sif's acquisition of KCI, the engineers. With ever larger diameters of monopiles, the balance is now shifting from our Roermond facility to our Rotterdam facility. The central column of the Tripod however, is a perfect match for the specifications of our Roermond facility and therefore perfectly complements our product range," Sif's Michel Kurstjens, said.
Bracings will be sourced from UK suppliers. Serial production is foreseen to start in 2024.
"We see the development and production of the Tripod as a perfect extension of our product portfolio and an excellent opportunity to further develop the Wallsend site in the UK. The development and production together with Sif is a continuity of utilizing our complementary strengths and capabilities in engineering and production of offshore wind foundations," Smulders' Jaap Jansen said.