All Foundations Installed at Vietnam's Hiep Thanh and Tra Vinh V1-2 Nearshore Wind Farms
Chinese Guangzhou Salvage Bureau has installed all monopile foundations at the nearshore sites of the Hiep Thanh and Tra Vinh V1-2 wind farms in Vietnam.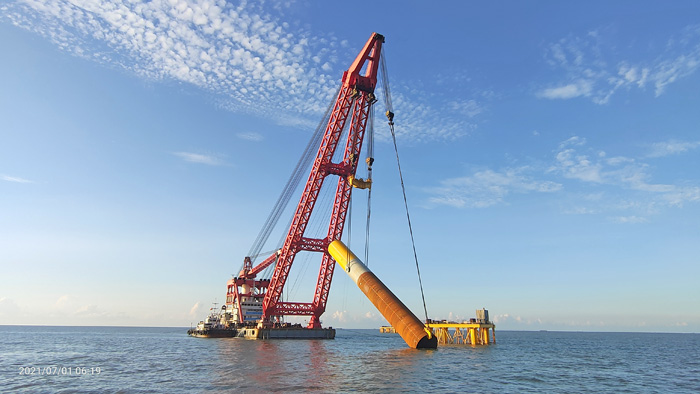 The construction specialist started installing the foundations in March and completed the work at the beginning of this month, putting 30 monopiles in place at the two wind farm sites in the Tra Vinh Province.
According to a press release from Guangzhou Salvage Bureau, this was the company's first such project overseas.
A couple of months ago, the two wind farms also received cables from China, as the submarine cable manufacturer Hengtong delivered its 35 kV cables and accessories for the two projects.
The 78 MW Hiep Thanh nearshore wind farm is located between one and three kilometres off the coast of Tra Vinh Province. The project will feature 18 Siemens Gamesa 4.3 MW wind turbines that are scheduled for commissioning by the end of this year.
The Tra Vinh V1-2 project is the second of three Tra Vinh nearshore wind farms, each bringing 48 MW of installed offshore wind capacity to Vietnam. The wind farm will comprise 12 Goldwind GW155-4.5 MW turbines and is expected to enter commercial operation phase in October 2021.
The Hiep Thanh wind farm is being developed by EcoTech Tra Vinh Renewables JSC, and its investors, Janakuasa Pte Ltd, Ecotech Vietnam, Climate Investor One, which is managed by Climate Fund Managers (CFM), and ST International.
Tra Vinh V1-2 Project is being developed by Truong Thanh Vietnam group in a consortium with Sermsang Power Corporation Public (SSP) from Thailand.