Offshoretronic Presents Installation Solution for Ultra Long XXL Monopiles
After unveiling its dual crane wind turbine installation solution for turbines of up to 11 MW last year, Offshoretronic has now introduced vessel design for the installation of the next-generation, ultra long XXL monopiles that will support wind turbines of up to 20 MW.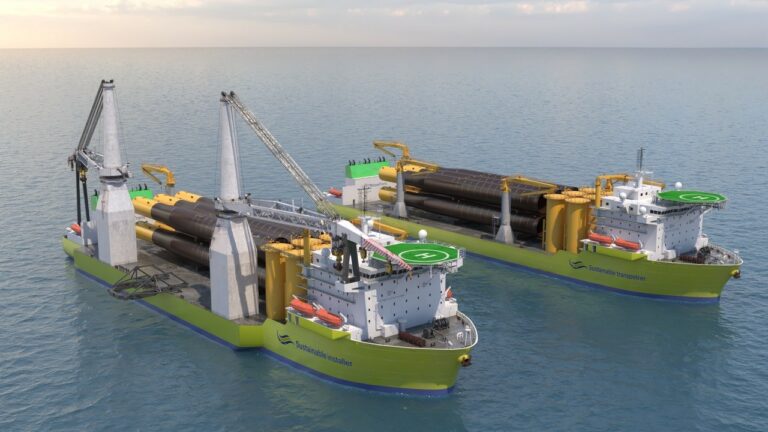 The vessel design involves conversion of obsolete ultra-deepwater (UDW) drillships. Offshoretronic's Project Director Jeroen Berkhout says this is one of the best possible options to enter the offshore energy transition market with cost-efficient and competitive vessels, as market predictions see a shortage of heavy lift installation vessels in 2025 with the increased worldwide demands and the increased size of foundations.
The solution, designed to handle monopiles with over 100 metres in length and 10 metres in diameter, is also utilising a dual crane installation vessel, together with a VIBRO Hammer and a transport vessel, enabling transport and installation of multiple ultra long XXL monopiles in one go.
The vessels, called Sustainable Installer and Sustainable Transporter will be able to transport and install twelve ultra long Long XXL monopiles in a single run, Offshoretronic says, adding that the installation solution is also Jones Act-compliant.
"Our Tender and Transport Vessel will be able to support cost efficient ways to cope with the Jones Act requirement in US waters. While The Sustainable Installer can stay at the US wind farms for installations works, the Sustainable Transporter can tender from non-US ports to supply 6 Ultra Large XXL monopiles in one single turnaround".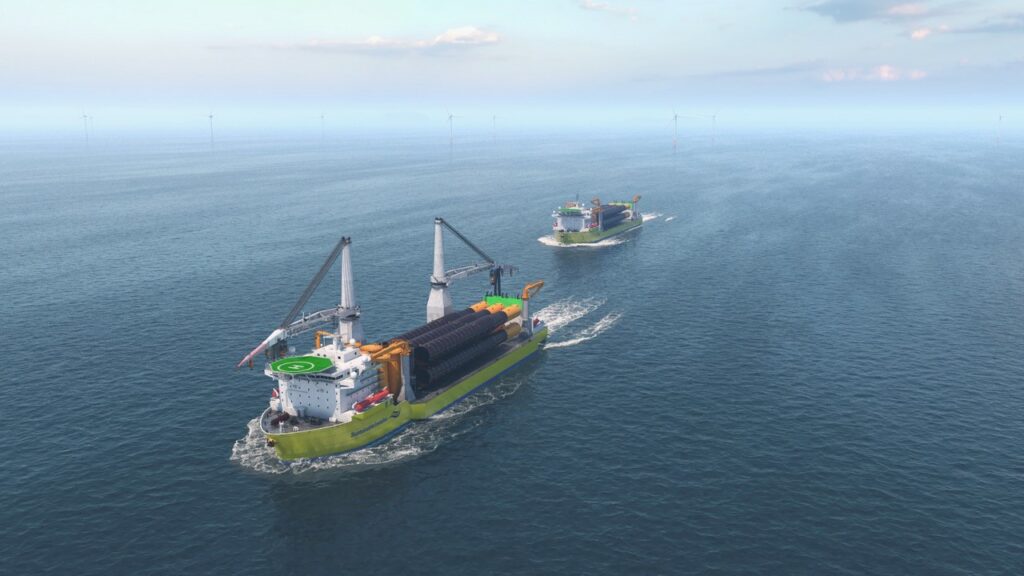 According to the company, along with being time- and cost-efficient, the installation solution also mitigates risks such as pile buckling.
In terms of cost savings, utilising the installation solution eliminates mission equipment such as upending tools, latitude cross beam, transport frames, pile supports and pile skidding transporters.
"Logistics is becoming the key in offshore wind and by double stacking the monopiles we create a very competitive solution while other vessels can only carry a maximum of three or four monopiles", the company states.
Furthermore, install monopile with a VIBRO Hammer to up to 50-70 per cent of the final pile penetration eliminates the use of pile gripper systems and associated risk of damaging the monopiles, as well as errors with DP capabilities of the crane vessel, according to Offshoretronic.
When the monopiles reach a penetration point of over 50 per cent, the VIBRO Hammer with integrated pile gripper can safely release and final installation can be performed by a hydraulic impact piling hammer, if needed.