Hyundai Heavy Industries Develops Floating Foundation for 10 MW Wind Turbines
Hyundai Heavy Industries (HHI) has developed a semi-submersible floating foundation for 10 MW-class wind turbines together with the Korean Register of Shipping (KR) and Korea Research Institute of Ships & Ocean Engineering (KRISO).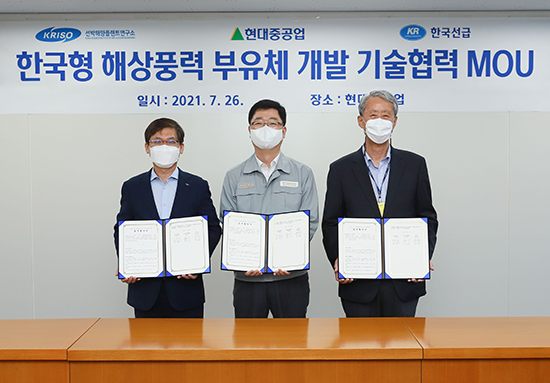 On 26 July, HHI signed a Memorandum of Understanding (MOU) with the two organisations for technical cooperation on floating platform design, project certification, and verification of the model performance test in the future.
The Korean Register of Shipping has given the Approval in Principle (AiP) to the model, whose development follows the agreement HHI signed with Korea National Oil Corporation (KNOC) in September 2020.
Under the agreement, HHI is joining the Donghae 1 floating offshore wind project in Ulsan, South Korea, for which the company will deliver floating wind turbine foundations.
For its floater, HHI says it has been developed to enable quick mounting of the wind turbine on the floating platform at a quay and also to be durable enough to withstand harsh sea conditions.
The Donghae 1 floating wind development is a 6 GW, EUR 27 billion project for which the South Korean government announced it was moving forward this May.
KNOC is currently developing an initial 200 MW phase of Donghae 1 floating wind farm in cooperation with Equinor and Korea East-West Power Corporation.
The project is also on the map for Samsung Heavy Industries, which recently unveiled a floating wind platform for 9.5 MW turbines and said it was eyeing both domestic and international markets for its new technology.