South Korea Unveils EUR 27 Billion Floating Wind Project
The Government of South Korea will invest KRW 1.4 trillion (around EUR 1 billion) in the first phase of the project to develop a 6 GW floating wind farm offshore Ulsan, the country's president Moon Jae-in said.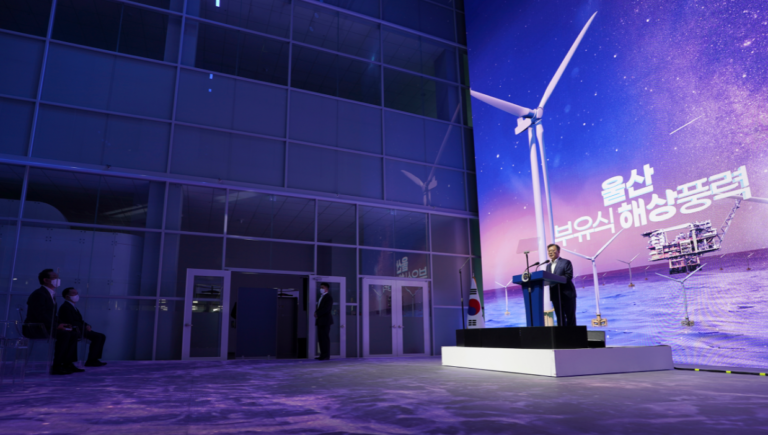 The mammoth project will need a public-private investment of some KRW 36 trillion (EUR 26.7 billion), with the full commissioning expected in 2030.
Some 20 per cent of the electricity produced at the wind farm could be used to produce around 84,000 tons of hydrogen per year, Moon said.
This one project alone would meet half of the country's offshore wind capacity target by 2030.
The project is expected to create 210,000 jobs, Moon said.
The 6 GW wind farm will be built at the site of the Donghae 1 gas field which is scheduled to end production in 2022.
Located some 58 kilometres off Ulsan, the site has already been selected by Korea National Oil Corporation (KNOC), Korea East-West Power (EWP), and Equinor for the development of the 200 MW Donghae 1 demonstration floating wind farm.
A portion of the power produced at Donghae 1 will be used to power a 100 MW electrolyser plant being developed under a different project.
As big as this 6 GW floating wind farm is, it is still not the largest offshore wind project announced in South Korea.
Back in February, the country launched a KRW 48.5 trillion project to build an 8.2 GW fixed-bottom offshore wind farm off the Sinan County, South Jeolla Province, by 2030.
If both of these projects are fully built, South Korea will blow past its target of having 12 GW of installed offshore wind capacity by 2030.