Poland Awards 2.5 GW Baltica 2&3 with Contract for Difference
The Polish Energy Regulatory Office (ERO) has awarded a Contract for Difference to the 1 GW Baltica 3 and 1.5 GW Baltica 2 offshore wind projects.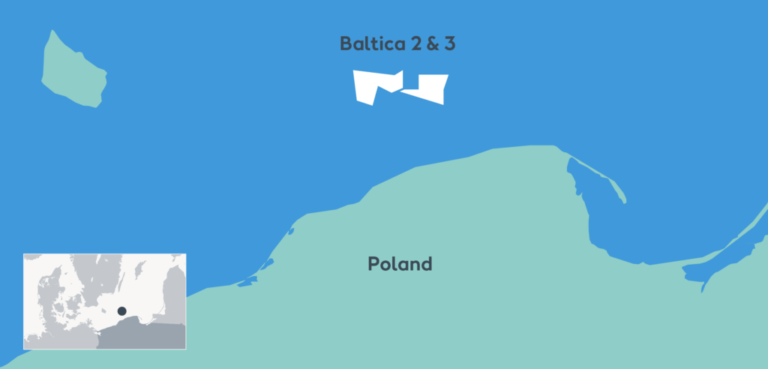 In February, Ørsted and PGE signed an agreement to form a joint venture for the development, construction and operation of the wind farms.
Subject to the closing of the joint venture transaction and the final investment decisions, Baltica 3 would start generating power around 2026, while Baltica 2 could become operational before 2030.
ERO awarded a maximum strike price of PLN 319.60/MWh (EUR 67.93) to the project. The CfD award is subject to final approval from the European Commission.
"The contract award for Baltica 3 and 2 is a big milestone for Polish offshore wind and for Ørsted's and PGE's joint ambitions in Poland," said Rasmus Errboe, Senior Vice President and Head of Region Continental Europe at Ørsted.
"Subject to closing of the joint venture agreement, we look very much forward to delivering these important infrastructure projects and to help Poland harness the large green energy resources in the Baltic Sea. The offshore wind industry will be a cornerstone in Poland's transition to green power and has the potential to create thousands of Polish jobs."
Besides Baltica 3 and 2, ERO awarded a CfD to the 350 MW FEW Baltic II offshore wind project, located some 50 km offshore, on the north side of the Slupsk Bank in the Baltic Sea.
At the beginning of the year, Poland's President Andrzej Duda signed the Offshore Act into law, which allows for 10.9 GW of offshore wind capacity to be either operational or under development by 2027.
5.9 GW of capacity will be offered via Contracts for Difference by the end of this June. The second phase will include two auctions, each for 2.5 GW, the first in 2025 and the second in 2027.