Highlights of the Month – November 2020
We bring you the ten most-read articles on the OffshoreWIND.biz site for the month of November 2020.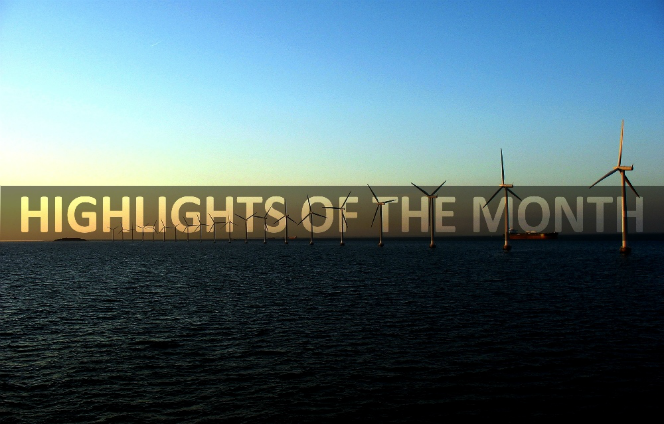 Two-Turbine Floater Prototype Breezes Through Tests in Baltic Sea

The scaled-down version of the Nezzy² floating wind turbine, a two-turbine floating wind platform, completed its two-month tests in the Bay of Greifswald in the Baltic Sea and has now been dismantled.
Liebherr Recovers Orion's Crane Jib, Repair to Be Completed in 2021

The recovery and repair of the crane that collapsed on board the installation vessel Orion during lifting trials in May are progressing at Liebherr facilities in Rostock, where the crane's auxiliary jib and the jib head have now been transferred.
Port and Installation Vessel All-In-One Coming to Market

Windthrust Ltd., a subsidiary of National Ports Corporation, has revealed plans for a combined self-propelled floating port and installation vessel for offshore wind turbines, foundations and substations.
GE Haliade-X Breaks 300 MWh Daily Output Ceiling

The prototype GE Haliade-X offshore wind turbine has produced 312 MWh of electricity in a single 24-hour period, once again setting a new world record.
Dogger Bank Owners Close Largest Ever Offshore Wind Project Financing

Equinor and SSE have reached financial close on the first two phases of the Dogger Bank wind farm project, representing in aggregate the largest offshore wind project financing to date globally.
Germans Developing Self-Aligning Floating Wind Turbine

A new concept for a floating wind turbine platform that aligns itself depending on wind conditions is being developed in Germany under the framework of the joint research project HyStOH, set up by the Federal Ministry for Economic Affairs and Energy (BMWi).
Most Powerful Wind Turbine Installed Offshore Secures Type Certificate

Dongfang Electric Corporation (DEC) has received the type certificate from the China Quality Certification Center for its 10 MW offshore wind turbine.
GE Haliade-X 12 MW Turbine Obtains Full Type Certificate

GE Renewable Energy's Haliade-X 12 MW prototype has received a full type certificate from DNV GL. This certification provides independent verification that the new turbines will operate safely, reliably, and according to design specifications.
Europe's Most Powerful Wind Turbine Sits Atop Floating Foundation

MHI Vestas has installed the first V164-9.5 MW turbine on a floating platform for the Kincardine offshore wind project.
Denmark Moves Forward with Energy Islands

The Danish government has identified areas in the North Sea and the Baltic Sea suitable for the development of the energy island projects.