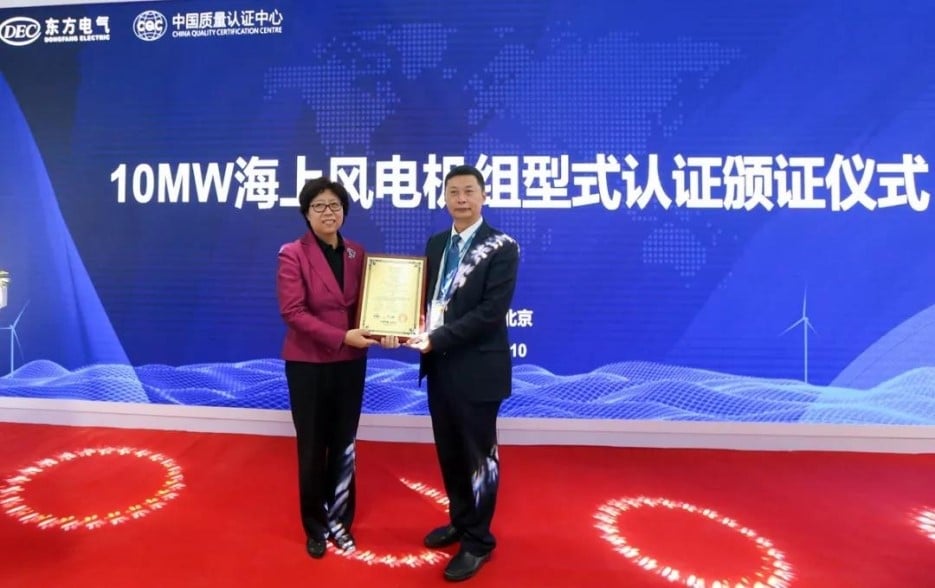 Dongfang Electric Corporation (DEC) has received the type certificate from the China Quality Certification Center for its 10 MW offshore wind turbine.
This is China's first type certificate for a wind turbine with a double-digit capacity, DEC said.
DEC installed the prototype 10 MW anti-typhoon offshore wind turbine at Xinghua Bay Wind Farm Phase II off the Fujian province this summer.
The unit is the most powerful wind turbine to be installed offshore anywhere in the world.
The turbine features 90-metre blades (B900A) independently developed by DEC, and a 185-metre blade diameter.
It can generate 4 GWh of power each year assuming 10 m/s winds and is developed for the offshore wind areas along China's southeast coast, DEC said.
The turbine maker said that it received large orders for the turbine model, including the one for the Changle Waihai Area C wind farm.