Walney Extension Helicopter Base Ready for Business
Jones Bros Civil Engineering UK has completed the construction of the helicopter base which will be used for the transport of technicians for the Walney Extension offshore wind project.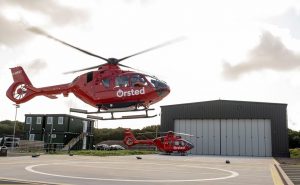 The GBP 4.2 million base in Barrow-in-Furness will be used for helicopters transferring technicians to and from the project for turbine routine maintenance, as well as attending any breakdowns.
According to the UK civil engineering company, it will provide a faster, more economical solution, helping save money, time and fuel, as well as allowing personnel to reach the site in poor weather conditions.
The two-phase project began last May with the construction of infrastructure services, structural foundations and hardstandings, and the supply and installation of welfare facilities for the operation team, storage and fuelling system for aviation fuel and aviation lighting system.
The second stage, from January to August this year, included the construction and installation of additional infrastructure services, extended car parking facilities and taxiways, and the building of the main hanger facility where the helicopter will be maintained and stored.
"Working collaboratively with Ørsted, we delivered this project from conceptual design stage through detailed design and onto construction," said Garod Evans, Contracts Director at Jones Bros. "The project presented some challenges with operational aircraft using the recently completed adjacent helipad during the construction of the hanger building."
The 659MW Walney Extension project comprises 40 MHI Vestas 8MW turbines and 47 Siemens Gamesa 7MW turbines which were officially inaugurated at the beginning of September last year.