PGE and Orlen Group Sign Deal for Polish Offshore Wind
PGE Group and Orlen Group have signed a letter of intent (LoI) to cooperate on the development of offshore wind in Poland.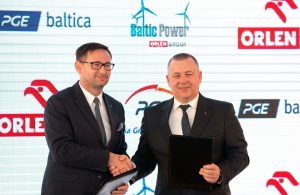 Under the deal, the parties intend to exchange offshore wind know-how, prepare for investments in maritime infrastructure and supply logistics and assess the key parameters of the accessibility of Polish ports.
Additionally, the cooperation will focus on developing the supply chain and coordinating public relations activities directed at key stakeholder groups, including education activities on the importance of offshore wind projects.
There is also space for potential cooperation on the design and construction of connection infrastructure, in consultation with the transmission system operator, PGE said.
"We intend to use the value of offshore wind energy for the development of the Polish economy. We also want local communities to benefit from the implemented projects. We count on operational benefits, such as cost optimization, network and technical solutions, as well as maritime logistics," said Daniel Obajtek, President of the Management Board of PKN ORLEN.
"The partnership will also allow for unification and strengthening of communication, including through joint talks with social organizations and the suppliers of key elements."
At the end of last year, PGE, the Polish state-owned power company, launched a search for a strategic partner to prepare, build and operate offshore wind farms in the Baltic Sea with a total capacity of up to 2.5GW.
The first stage of PGE's offshore program includes the construction of 1,500MW within an area covered by a concession held by Elektrownia Wiatrowa Baltica-2, and 1,045 MW within an area controlled by Elektrownia Wiatrowa Baltica-3, located some 25-30km from the coastal city of Łeba.
In April, Baltic Power, part of Orlen Group, deployed a floating LiDAR at its offshore wind farm license area in the Polish Baltic Sea to study the environmental impacts and wind conditions expected to help assess the potential for the development of a project with a capacity of up to 1,200MW.
Related news
List of related news articles