Sleipnir Soon to Leave for Maiden Voyage
Sleipnir, Heerema Marine Contractors' new semi-submersible crane vessel (SSCV), is set to depart for its maiden voyage this week.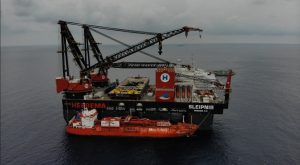 According to Heerema, Sleipnir will set course from Indonesia to Spain on a trip expected to take about 45 days rounding South Africa's Cape of Good Hope.
Bunkering of LNG took place for the last two days some 12 miles offshore Indonesia, with help from Dutch company Titan LNG, Heerema said.
In the Mediterranean, Titan LNG will again supply Sleipnir using the Coral Fraseri that will pass through the Suez Canal.
"We are very pleased to work together with Dutch Company Titan LNG, since it provided us with good solutions for bunkering, in Singapore as well as in Spain. The involvement of a second Dutch company, Anthony Veder, makes this maiden voyage extra special," said Koos-Jan van Brouwershaven, Heerema CEO.
Sleipnir, which completed its sea trials and crane load tests at the end of June, can accommodate 400 persons and will be used for installing and removing jackets, topsides, foundations, moorings and other offshore structures.
To remind, Heerema recently won a contract by Petrofac, under which the vessel will transport and install the Alpha platform at the Hollandse Kust Zuid offshore wind farm zone.
Related news
List of related news articles