Sleipnir, Heerema Marine Contractors' new semi-submersible crane vessel (SSCV), has completed its sea trials and crane load tests.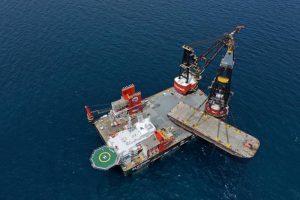 During the trials, Sleipnir reached a speed of 12.2kn, approximately 22.6km/h when fully deploying all eight thrusters, therefore reducing the transit time to projects, Heerema said.
The vessel's two 10,000t revolving cranes were also put to the test and operational tests were carried out with loads of 11,000t per crane, which is 110% of Sleipnir's capacity.
The Dynamic Positioning system showed it can keep Sleipnir stationary within the footprint of a garden tile of 30x30cm during operational work, Heerema added.
The vessel is the first dual-fuel crane vessel, with engines running on Marine Gas Oil (MGO) and Liquefied Natural Gas (LNG).
It can accommodate 400 persons and will be deployed for installing and removing jackets, topsides, foundations, moorings and other offshore structures.
Sleipnir is expected to soon commence its maiden voyage to Spain to undergo preparations for its first installation project in the Mediterranean. To remind, Heerema recently won a contract by Petrofac, under which the vessel will transport and install the Alpha platform at the Hollandse Kust Zuid offshore wind farm zone.
Photo: Heerema Marine Contractors
Related news
List of related news articles