Taiwan Offshore Wind Industry Association Kicks Off
Eight offshore wind majors have officially launched the Taiwan Offshore Wind Industry Association.
The founding members include Ørsted, Northland Power, Copenhagen Infrastructure Partners (CIP), wpd offshore solutions, Macquarie Group, Swancor, Yushan Energy and the Japanese utility JERA.
The association aims to bring together offshore wind companies in Taiwan to promote the long-term development of the industry, stable policies and regulatory framework, as well as strengthen education and training.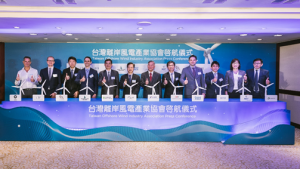 Taiwan plans to achieve 5.5GW of installed offshore wind capacity by 2025 and has also set an indicative target of 10-17GW by 2030. The 5.5GW were awarded in two separate tendering rounds in in April and June last year.
Offshore wind developers that secured the rights to build wind farms are obligated to sign PPAs for the projects with the state-owned Taiwan Power Corp (Taipower) by the end of 2019.
Related news
List of related news articles