Ulstein Verft has installed a helideck on board Acta Marine's new walk-to-work vessel Acta Centaurus at its yard in Ulsteinvik, Norway, thus completing the topside equipment installation process.
According to Ulstein, Acta Centaurus will be completed and ready for operation in a little more than two months.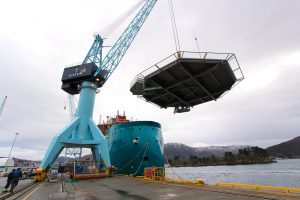 "The main topside equipment, including tower, gangway and crane, has been installed and tested previously, the helideck was the final equipment installation to take place," said Marcus de Greef, Project Manager for Acta Marine.
"Commissioning of ships system such as main engines, propulsion system, bridge manoeuvring system together with completion of the interior in accommodation will be given focus the next weeks. Inclining test and yard sea trial are the largest remaining milestones."
Acta Centaurus has a 3,200t load capacity, a 6m draft, and will provide accommodation for up to 120 persons. It will also be equipped with a hybrid battery pack and a telescopic traffic compensation system.
Once delivered in the second quarter of the year, the 93m long vessel will join Acta Auriga and Acta Orion, and as such form the third vessel in the fleet dedicated for walk-to-work, offshore logistics and accommodation services in the offshore renewable sector.
Photo: Credits to Benny Banen (Acta Marine)