EXCLUSIVE: OHT Orders Offshore Wind Foundation Installation Vessel
Norway's OHT has signed a contract with China Merchants Heavy Industry (CMHI) in Jiangsu, China, for the construction of a 48,000 dwt semi-submersible offshore wind farm foundation installation vessel, with options to extend the program with up to three vessels.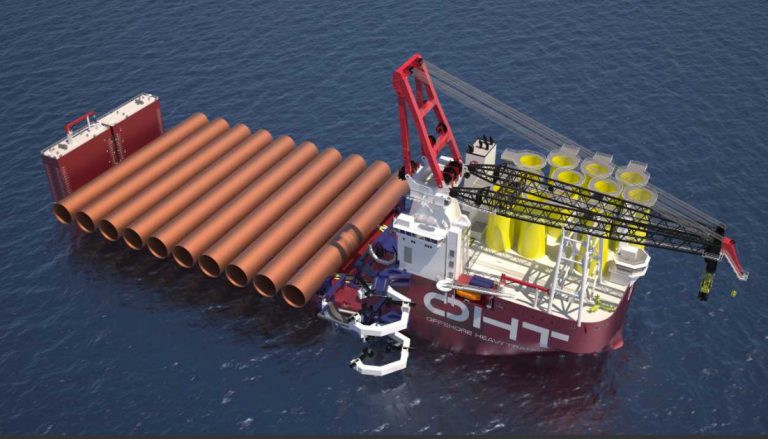 The first vessel will be ready for project deployment from early 2021, OHT said. The design has been developed by OHT in close cooperation with Ulstein Design & Solutions BV, Liebherr and DNV GL. The vessel will fly the flag of the Norwegian International Ship Register.
The Oslo-based OHT (Offshore Heavy Transport) currently owns and operates five open deck semi-submersible heavy transportation vessels: Hawk, Osprey, Albatross, Falcon and Eagle.
The new additions to the existing fleet will enable the company to take on full transport & installation scope for foundations for offshore wind farms.
"We have one overriding goal with this initiative; to bring down the cost of building offshore windfarms. Our existing fleet already represents the most efficient way of transporting offshore windfarm foundations over long distances. Combining this with the patent pending ULSTEIN Alfa Lift installation vessel design, we expect to set a new benchmark in cost per foundation installed. We look very much forward to working closely with the industry to achieve our ambitious targets," said Torgeir E. Ramstad, CEO for OHT.
Alfa Lift design includes several innovative solutions to ensure superior efficiency when installing foundations for offshore wind farms, OHT said. The vessel is said to combine "unprecedented cargo carrying capacity with a 3,000 t crane and the ability to submerge offshore."
Liebherr will deliver the crane which has been designed to be particularly robust with respect to motions and dynamics, enabling the crane to lift loads up to its maximum capacity in challenging offshore conditions, the company said.
The vessel has a total length of 216.3m, and a breadth of 56m. Total usable deck area exceeds 10,000m2. Up to 10 x 1,500 t ultra-large jacket foundations or 11 x 2,000 t XXL monopiles together with transition pieces and mission equipment can be loaded on to the decks, transported to the wind farm, and installed – all with the same vessel.
The vessel's main deck is fully mechanized with skidding tracks, which are used to move foundations during loadout and installation. A trolley picks up each foundation and brings it to within reach of the crane. No crew is present on the main deck during these operations, according to OHT. The integrated motion compensated pile gripper allows installation of monopiles in DP mode, making mooring operations unnecessary.
Alfa Lift will come equipped with battery hybrid propulsion, it has an exhaust gas scrubber and is Tier III compliant. To enhance sea state limitations and reduce weather downtime, Alfa Lift has the capability to submerge offshore during the installation operation.
According to OHT, the vessel may also serve other secondary markets within heavy transportation, installation and decommissioning. For instance, the beam has been set to enable the vessel to carry topside structures weighing more than 30,000t and still fit into the slot of the world's largest installation vessel, Pioneering Spirit. As it can submerge the main deck below the sea surface, the vessel is particularly well suited to perform lifts of suction bucket jackets, mono buckets and subsea structures where lifting through the splash zone is critical, OHT said.