Lamprell Puts USD 80 Million East Anglia ONE Hit Down to Experience
The UAE-based offshore engineering and fabrication company Lamprell recorded USD 98.1 million (EUR 79.6 million) net loss in 2017, USD 80 million of which was attributed to the operational challenges faced on the East Anglia One project.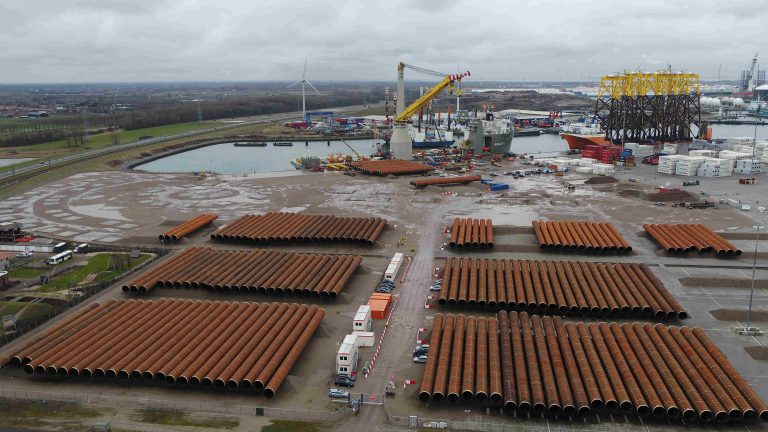 Back in November 2016, ScottishPower Renewables awarded Lamprell with a USD 225 million contract to manufacture and deliver 60 out of 102 jacket foundations and the accompanying piles for the 714MW East Anglia ONE.
Fabrication work is being carried out in Lamprell's Jebel Ali and Sharjah yards in the UAE, with the project now 73% complete, and the first eight fully assembled jackets and all 182 piles now delivered to the marshalling yard in Vlissingen.
Lamprell said that the company incurred significant additional costs relating to investment in staffing and equipment requirements, as well as significant additional shipping and subcontractor costs.
''We have undertaken a root cause analysis to determine the factors causing the significant, additional costs on the project which started with insufficient rigour during the bidding phase, compounded by inexperienced project leadership in this new market," John Malcolm, Lamprell's Non-Executive Chairman, said.
"The lessons learned and experiences from this project, although painful, have confirmed our commitment and our ability to deliver to the industry in general. The fundamentals of the renewables market are solid and, backed by European policy, it is anticipated to become a major pillar of global energy supply over the coming years. Therefore, we now view this as an investment in securing Lamprell's position in this emerging industry."
Lamprell said that the discussions with the client to meet their expectations around the schedule are ongoing. However, as with any contract, liquidated damages exposure remains in case of delays, the company said.
"2017 was my first full year as CEO and it has been a year of repositioning for Lamprell. It has also been dominated by the losses on the East Anglia One project where I am disappointed with our performance," Christopher McDonald, Chief Executive Officer for Lamprell, said.
"The project involved a steep learning curve and since my arrival we have been implementing steps to transform our processes and increase our rigour in the bidding activities. With this in place, I continue to believe Lamprell is well positioned to be competitive in the future in this strategic sector, one which we believe offers significant long-term potential."
Lamprell has taken concrete actions to adopt the lessons learned, McDonald said, and the company is "investing in additional resources and improved bidding processes to compete successfully" in new sectors such as renewables.