Bladt Ships Out Last Veja Mate Transition Pieces
The final six transition pieces for the 402MW Veja Mate offshore wind farm were delivered to Offshore Windforce M V.O.F. from Bladt Industries' production facilities in Aalborg at the end of the third quarter of 2016.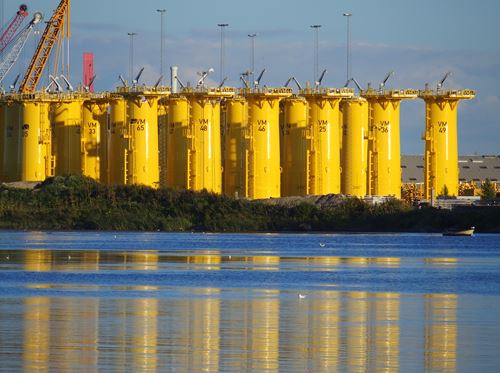 The six transition pieces were the last of a total of 67 units which were all finished within 14 months from contract commencement, Bladt said.
The fabrication time itself amounted to 12 months from delivery of materials to the final load-out. All transition pieces were fabricated and delivered without any delays, according to Bladt.
The 67 transition pieces have a diameter of up to 6.8 metres, an average weight of 325 tons, and a length of approximately 22 metres.
Bladt cooperated with EEW SPC and Offshore Windforce on this project. Bladt and EEW SPC have worked together for several years and together have delivered more than 1,500 foundations.
The Veja Mate offshore wind farm will comprise 67 Siemens 6MW wind turbines installed some 95 km northwest of the island of Borkum in the German part of the North Sea.
The EUR 1.9 billion wind farm, owned by the Highland Group Holdings Ltd, Siemens Financial Services and CI II managed by Copenhagen Infrastructure Partners, is expected to be fully operational by the end of 2017.