WindGrip Wins Renewable Energy Health & Safety Award 2016
Windcat Workboats has won the Renewable Energy Health & Safety Award 2016 with its WindGrip system.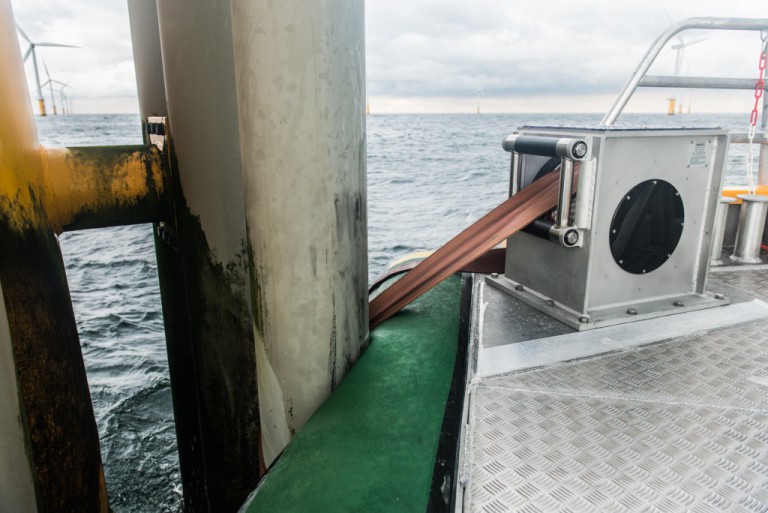 The award winner was announced on 27 January in Birmingham, on the eve of the 12th annual RenewableUK Health & Safety Conference.
This award scheme, devised by RenewableUK and the Crown Estate, aims to promote the development, implementation and sharing of best practice in health and safety across the sector, and is unique in the offshore wind industry.
"We are honoured to receive the 2016 Renewable Energy Health & Safety Award as recognition of Windcat's efforts to increase safety of offshore operations. We are happy to work in an industry which very health and safety conscious and glad the innovative WindGrip system can increase the safety even further," Neil Clarkson, Managing Director of Windcat Workboats, said.
WindGrip, patent pending, provides safer access to offshore wind turbines in harsh and unpredictable seas by increasing the grip of the vessel's fender on the boat landing using constant tension winches.
Windcat says that WindGrip reduces the risk of a vessel breaking away from a boat landing during a transfer as a result of above average waves, as the grip of the fender is not only realised using the vessel's propulsion at the stern of the vessel, but by adding additional force directly at the interface between the vessel's fender and the boat landing on the wind turbine.
The runners-up prize went to Deutsche Windtechnik, a new entrant to the UK market, for their hazard-reporting app (NCCAPA). The app was developed as a way of creating the right safety culture within the company from the outset, and to engage employees with the relevant issues.