Offshore Energy: Offshore WIND Installation and Maintenance Conference (OWIM) 2014
The Offshore WIND Installation and Maintenance Conference takes place on 29 October in Amsterdam.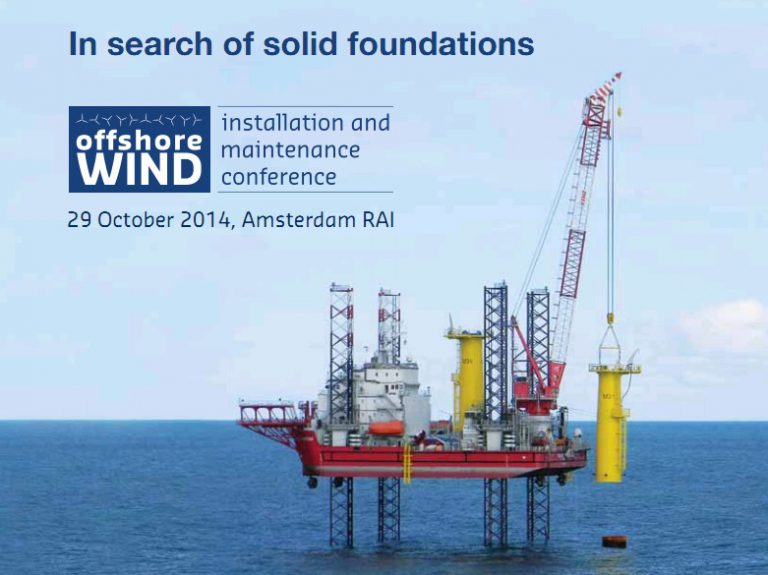 In an informative and educational day speakers from the industry provide an overview of wind farm developments, innovations in wind farm installation & maintenance and they will discuss the challenges of grid integration. The conference addresses the technical, operational, commercial and managerial challenges associated with future industry growth.
Setting the scene
In almost 10 years a complete new industry arose in the world; offshore wind. An upcoming of wind farms plus all the related issues that come with developing a new industry was seen in the last decade. Policy, subsidy, political commitment and goals to be achieved by this new source of energy were set up.
Developing an offshore grid
What is driving the cost development of the offshore electrical infrastructure and how does it impact the roll-out strategy for an offshore grid? What is the impact of a shared responsibility of grid operator and developer on timely realisation, financibility, standardisation and innovation? Answers to question like these and more will be presented by experts from TenneT, DG ENER of the European Commission and Ecofys, among others. They will share their visions on opportunities and risks for a coordinated realisation of an offshore grid on the North Sea.
Future development in turbine foundations
Multiple speakers will present their new developments that may change the future in wind turbine foundations in a session called Future Foundations. Will these innovative initiatives of various companies and institutes really be the base for radical cost reductions? The future will tell, but it looks promising.
Supply Chain management
Optimization of logistical processes are key in reducing costs, both in the installation and in the maintenance phase of a project. This supply chain management session discusses best practices along the value chain, giving insights from different perspectives – an operator's, a contractor's, a port's and a service provider's.
Remco Boersma of Vattenfall will touch upon practicalities. He will answer questions like 'once a project is commissioned and in full operation, what are the tools, what are the levers to reduce cost?' and 'what are the levers to optimize power production?' based upon experience in many projects from Vattenfall's portfolio.
Global Business Opportunities
With energy demand continuously on the rise the prospects for offshore wind are globally growing. In the Global Business Opportunities session business opportunities in India and US will be touched upon. There is also attention for new offshore wind markets in Europe such as France.
Networking opportunities
During the day there are plenty of opportunities to catch up with familiar faces from the industry during lunch in breaks and at the concluding networking reception. The Offshore WIND Installation and Maintenance Conference is co-located with Offshore Energy Exhibition & Conference. Conference badges give free access to  the Offshore Energy exhibition. It is possible to join the conference in the morning, afternoon of whole day. More information can be found on the conference website.
[mappress mapid="15031″]