Lamprell Delivers Hydra to Seajacks
Lamprell, a provider of diversified engineering and contracting services to the onshore and offshore energy industry, has completed the construction and delivery of the "Hydra" to its client Seajacks.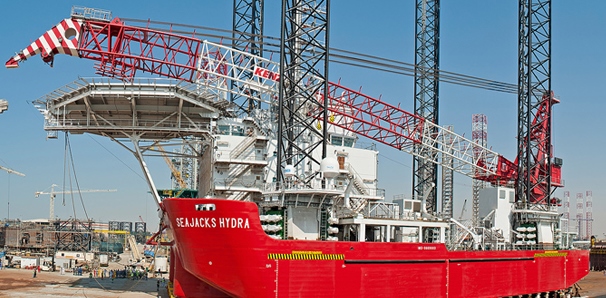 Following a naming ceremony for the vessel which was held at Lamprell's Hamriyah facility in the UAE on 15 April, Lamprell delivered the "Hydra" yesterday. The vessel will depart the facility shortly en route to its next destination in the North Sea. The "Hydra" is the fourth vessel that Lamprell has built for Seajacks, three of which were constructed to the GustoMSC NG2500X design with the fourth vessel based on the larger GustoMSC NG5500C design.
In a joint collaboration between Lamprell and Seajacks, the "Hydra" has undergone a substantial re-design resulting in an enhanced jacking system, an increase in persons on board from 90 to 100, an increase in main crane capacity from 300 tonnes to 400 tonnes and improved automation and space management.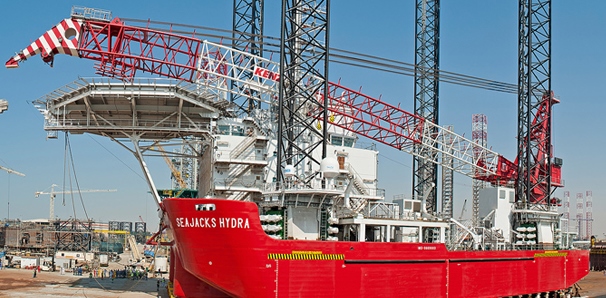 These vessels have been specifically designed to work in the harsh environment of the North Sea. Such jack up vessels are flexible and multipurpose, and are capable of working in both the offshore wind and the oil and gas sectors. All Seajacks vessels comply with the stringent regulations required to operate in the North Sea environment.
The contract for the "Hydra" was signed in July 2012 and delivery of this vessel represents the sixth jack up vessel of its kind to be delivered by Lamprell in total.
Commenting on the delivery, Blair Ainslie, Chief Executive Officer, Seajacks, said:
"In terms of quality she looks to be the finest, with superb facilities on-board for our crews and clients. Both the Lamprell and Seajacks project teams have raised the bar yet again and this shows both companies commitment to continuous learning."
Jim Moffat, Chief Executive Officer, Lamprell, said:
"This significant achievement has only been possible through the dedication and technical expertise of the Seajacks and Lamprell project teams.
It has been a busy start to the year for the Group with four major projects delivered successfully, on time and within budget."
Press release, June 03, 2014; Image: lamprell