Germany: DanTysk Offshore Substation Completely Installed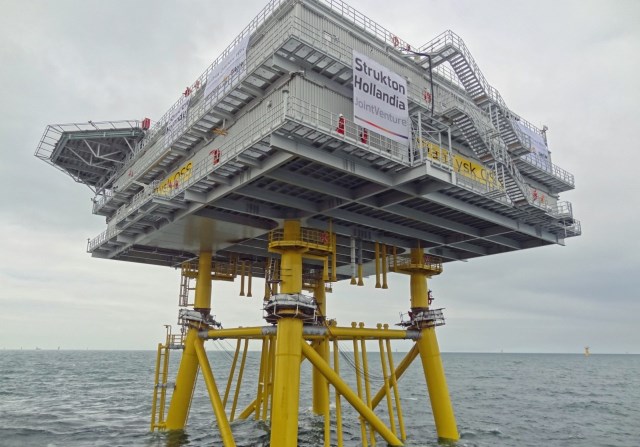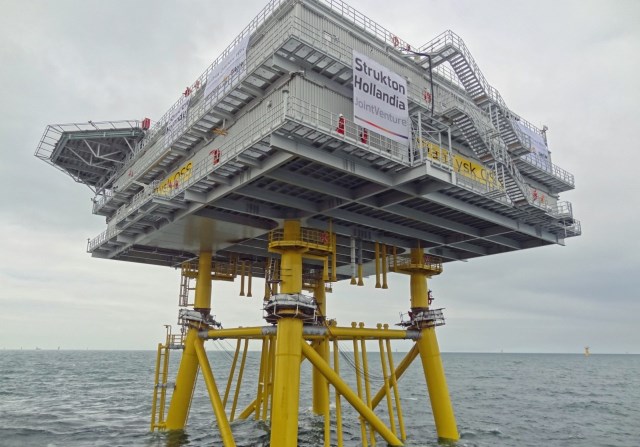 The Offshore Substation (OSS) for the DanTysk offshore wind farm is installed completely. After a construction period of around two years, the DanTysk OSS left the Hollandia Shipyard in Krimpen, The Netherlands, on the 23rd of July.
The OSS was built in two sections. After the successful installation of the jacket, Vattenfall has announced the finalisation of the DanTysk OSS. The last step was the installation of the platform. Covering an area of 36 x 44 m² this massive topside was a 3200 tonnes lift.
Now the entire structure is installed 50 meters in the seabed, standing in 26 meters of water, allowing for an air gap of 20 meters to the bottom of the topside and an additional 14 meters to the helicopter deck. This job can only be done by few vessels in the world, one of them being the Oleg Strashnov, a heavy lift crane vessel. The Oleg Strashnov has picked up the the OSS on a barge and arrived on construction site on the 25th of July.
During the entire installation the weather was nice for offshore standards causing only little delay of the installation work. After the jacket installation and some preparatory work on the foundation, the topside was lifted on August 1. The Oleg Strashnov was capable of lifting and properly placing the substation on its final resting place. That was indeed the most fascinating crane lift of the DanTysk offshore project. The process lasted less than one week and involved nearly 200 skilled professionals.
The OSS is without a doubt one of the largest, single technical component within the DanTysk wind farm. Now, the company is looking into hooking-up the OSS completely. A team of dedicated engineers will power-up all components.
In the future, the OSS will be transforming the electricity that is generated by all 80 wind turbines from 33 kV into 155 kV (AC). Connected to the converter station Sylwin1 the electricity will be transported to land via a 165 kilometre subsea cable.
[mappress]
Press release, August 5, 2013; Image: Vattenfall