Mingyang Targets South Korean Offshore Wind Market with Multi-Million-Euro Investment
Mingyang Smart Energy has signed a localisation cooperation agreement with the South Korean wind turbine manufacturer and wind power company, Unison, to promote its business in South Korea and globally.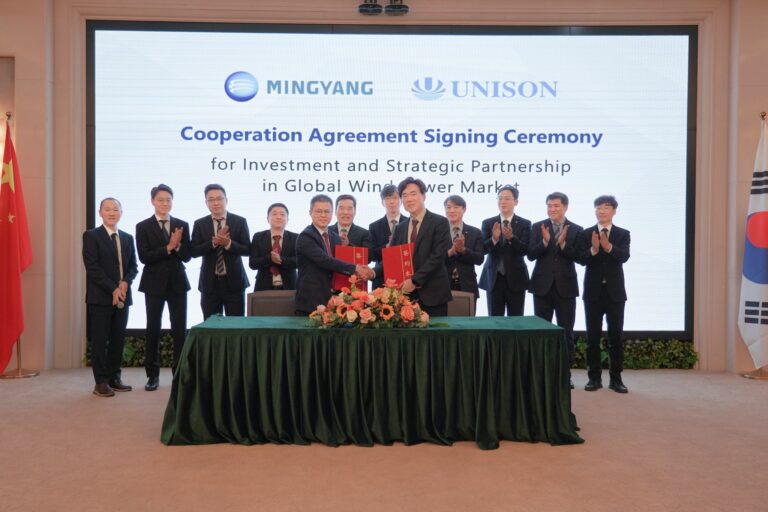 The agreement will see Mingyang Smart Energy investing 400 billion Korean won (approximately EUR 276 million) to carry out various forms of localisation cooperation with Unison, which includes the establishment of a wind turbine nacelle assembly plant, a blade manufacturing plant, and the development and investment of onshore and offshore wind farms.
This series of cooperation is expected to create approximately 1,000 local jobs.
"I envision a mutually beneficial and win-win partnership where we can deepen our exchanges, leverage each other's strengths, explore innovative cooperation models, and achieve breakthroughs in both the Korean and global markets. Together, we can create a new landscape for international expansion", said Zhang Chuanwei, Mingyang Smart Energy's Chairman and CEO.
Zhang Qiying, President and Chief Technology Officer of Mingyang Smart Energy, and Park Won-Seo, CEO of Unison, signed the agreement while Mingyang Smart Energy's CEO and Chairman witnessed the ceremony.
As part of its efforts to achieve its goal of reducing greenhouse gas emissions to 40 per cent of 2018 levels by 2030, South Korea has set a target to add 12 GW of offshore wind capacity.
Within this context, the cooperation with Unison will enable Mingyang Smart Energy to enter the South Korean wind power market in compliance with localisation requirements, the company said.
By doing so, the company can accelerate the promotion and implementation of advanced technology and products in South Korea, creating new opportunities for both parties' international growth.
At the beginning of this year, the Chinese wind turbine manufacturer unveiled its next flagship offshore wind turbine – the MySE 18.x-28X.
Going beyond the 18 MW threshold, MySE 18.X-28X is said to be the epitome of Mingyang's innovations and comprehensive upgrade on the hybrid-drive technology.
Follow offshoreWIND.biz on: