Ørsted Awards Onshore Substation Contract for Greater Changhua 2b & 4
Ørsted has awarded Taiwan Cogeneration Corporation (TCC) a contract to build the onshore substation for the 920 MW Greater Changhua 2b and 4 offshore wind farms.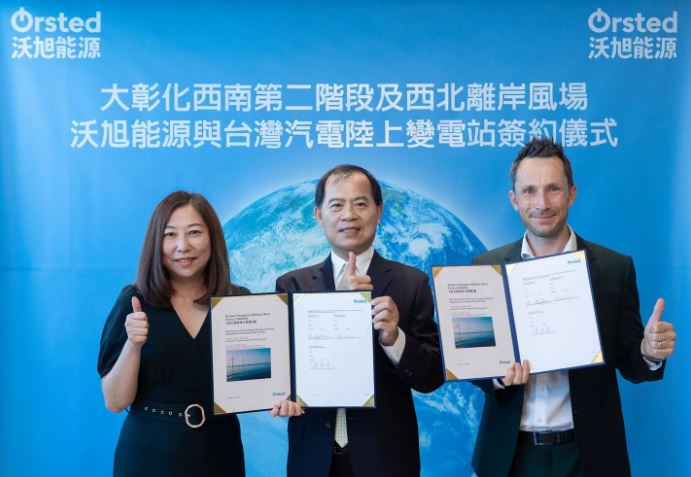 The contract award follows Ørsted's final investment decision on the offshore wind farms last month.
Under the contract, Star Energy Corporation (SEC), 100 per cent owned by TCC, will be responsible for all onshore deliverables, including design, Engineering, Procurement, Construction (EPC), and commissioning of the onshore transmission system.
The EPC scope includes a substation built using pre-cast methods, which strengthens QHSE management on site, and a high-voltage 345 kV electrical system to connect to the Taipower grid.
Ørsted has obtained the land lease rights and construction permit within the Changhua Coastal Industrial Park to build the onshore substation, which is expected to be energised by the end of 2025.
In 2020, the company signed a corporate power purchase agreement (PPA) with Taiwan Semiconductor Manufacturing Company Limited (TSMC) for the offtake of the full production from the 920 MW wind farm, the largest-ever contract of this kind in the renewable energy sector.
Located approximately 35-60 kilometres off the Changhua coast, Changhua 2b and 4 will comprise around 65 wind turbines with an individual output of 14 MW.
By the end of 2025, when the new Changhua 2b and 4 offshore wind farms are built, Ørsted will have more than 1.82 GW of operational offshore wind capacity in Taiwan.
The company is currently building the 900 MW Greater Changhua 1 and 2a offshore wind farms, slated for full commissioning this year, and is the co-owner of Taiwan's first commercial offshore wind farm, the 128 MW Formosa 1, operational since 2019.
Ørsted also has projects in development in Taiwan, including the Xu Feng 1, 2 and 3 offshore wind farms off the coast of Changhua County, the Wo Neng 1 and 2 offshore wind projects off the coast of Taichung, and the Greater Changhua 3 project.
Follow offshoreWIND.biz on: