DAVI in Taiwan: a dominant role in the Wind Energy Industry
If you ask which is the Plate Rolling Line supplier in Taiwan for Wind Energy components, you will get only one answer: DAVI. The presence of DAVI in the Taiwanese Wind Energy industry is testified by the 14 Plate Rolls currently in operation in the country.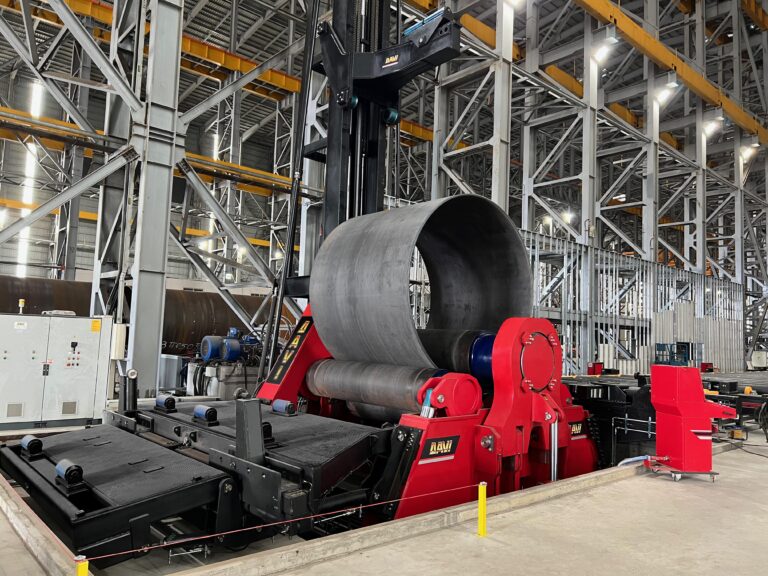 The Taiwanese Wind Energy sector has been facing a great expansion since 2018. Due to a stringent local content, the Taiwanese market grew a lot very quickly and immediately looked for solutions that can grant precision and reliability: in this situation, DAVI stood out as the best supplier on the market and sold 14 Wind Energy Lines in less than 3 years, becoming the leading brand in Taiwan to produce foundations and towers.
This leadership has been reached thanks to DAVI unique and patented technological solutions (the 4-roll MCB equipped with an entire line specifically developed for Wind Energy) that are used all over the world to produce Wind Towers but also for large-diameter components such as Transition Pieces and Monopiles with the highest level of automation.
In addition to the 4-roll solutions, DAVI has also supplied in Taiwan several units of MAV (3-roll with variable axis), being the right technology to guarantee the best performances when it comes to relevant thicknesses and small diameters (e.g., Jackets).
Agreements with local partners for after sales and service gave another competitive advantage to DAVI in this market.
A special case in Taiwan is represented by Century Wind Power, the leading player for the construction of both Towers and Foundations; the unique technology and support provided by DAVI in the years have allowed to establish a preferred partnership between the two companies. Their fleet of DAVI Plate Rolls is composed of four machines: two 3-meter MCB (4-roll) to produce Towers, a 4-meter MCB (4-roll) and a 4-meter MAV (3-roll with variable axis) for Foundations.
Before 2018, Century had worked with other Plate Roll Manufacturers, but, after discussions with their partner Bladt Industries (one of our long-lasting references), they chose DAVI for their first MCB: extremely satisfied with its performances, they renewed their trust for the new expansion for which they have added two MCB to produce towers and one MAV for Jackets.
4 machines in Century and 14 in the whole country: these are the magic numbers of DAVI in Taiwan!
Note: The opinions, beliefs, and viewpoints expressed in this article do not necessarily reflect the opinions of Offshore-Wind.biz