Offshore Drone Challenge Takes Off
German energy company EnBW and its project partner, the German Aerospace Center (DLR), have published the conditions of entry and the specific flight tasks for the Offshore Drone Challenge (ODC) for the first time.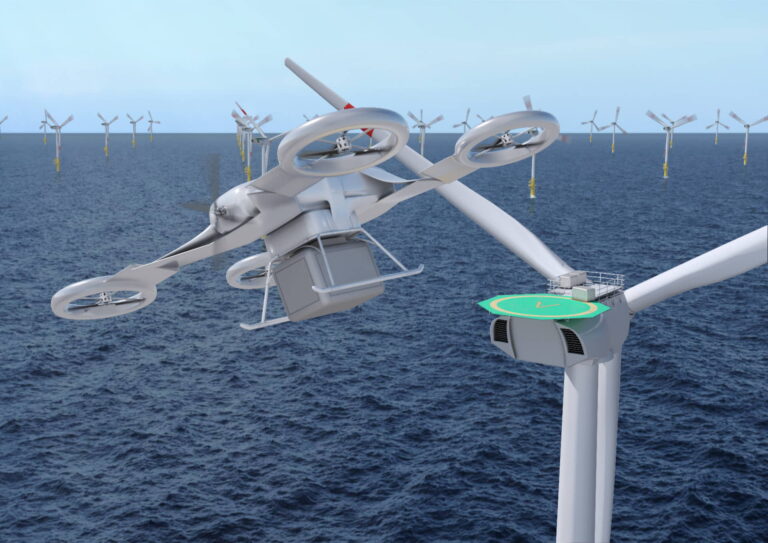 As part of the Offshore Drone Challenge, drone manufacturers and service providers are invited to demonstrate their technologies for transporting maintenance equipment to offshore wind farms.
The ODC is embedded in the Upcoming Drones Wind Farm (UDW) research project. The project, funded by the German Federal Ministry for Economic Affairs and Climate Action, is focusing on the use of transport drones in offshore wind farms. Its aim is to establish the conditions and steps necessary for running drone operations, initially for transporting materials and perhaps eventually also passengers.
On the occasion of Amsterdam Drone Week 2023, held between 21 and 23 March, all interested parties will be informed of the conditions of entry for the challenge and given the specific flight tasks for the first time.
Practical testing of flight maneuvers relevant to the use case covering operations and maintenance logistics for offshore wind farms is an essential milestone of the project. Both software aspects and structural modifications come into consideration here in order to link the "drone" and "wind farm" systems, EnBW said.
A total of up to seven entrants will be able to take part in the ODC. Legal entities – i.e., companies and research institutions – are eligible to enter. Private individuals may not enter.
The application process involves submitting the relevant application documents by 31 July 2023; it is expected that participants will be informed in September 2023.
Their selection is based on the following criteria: the aerial vehicle's technical data, completed flight program and references as well as suitability and strategic direction in terms of the offshore wind energy use case.
Even though the use case involves the field of offshore wind for eventual use on the high seas, the course will be completed on land. This will make it much simpler, safer and less expensive to organize, while still providing all the information needed in relation to the challenges associated with accomplishing the individual mission components, according to EnBW.
The course consists of a total of seven stages, which must be completed one after another. The individual elements offer full flexibility in terms of how they are accomplished in order to allow for the technology's varying degrees of maturity.
The practical flight days themselves will be held in June 2024. The venue is the National Experimental Test Center for Unmanned Aircraft Systems (CSO). A jury of representatives from the fields of aviation, insurance, UAM, and wind energy will crown the winner after the practical section.

ADVERTISE ON OFFSHOREWIND.BIZ
Get in front of your target audience in one move! OffshoreWIND.biz is read by thousands of offshore wind professionals daily.
Follow offshoreWIND.biz on: