POSCO's Factory of Eco-Friendly Tower Steel Plates Gets DNV Seal of Approval
POSCO has received approval from DNV for its Gwangyang Works plant, which produces eco-friendly 'Greenable' steel plates and has certified the company's standard plate product EN-S355 as steel for renewable energy.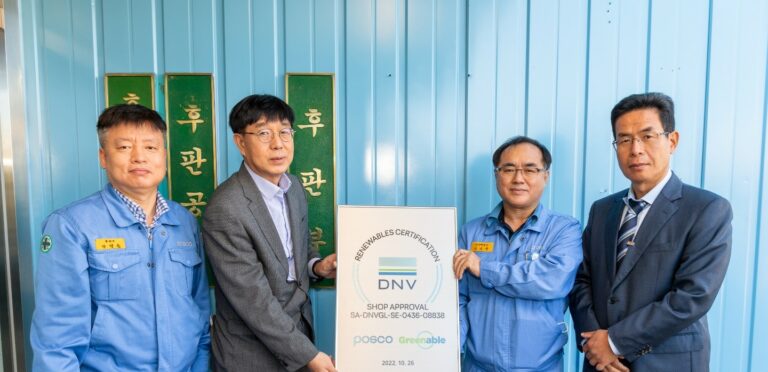 The certification process in March, after POSCO and DNV signed a Memorandum of Understanding (MOU) for the certification of steel products applied in the wind power sector. DNV completed the process and approved the plant at Gwangyang Works as a 'renewable steel plant' in July.
According to the South Korean manufacturer, Greenable is POSCO's integrated brand of eco-friendly and high-performance steel products and solutions that is applied when producing, transporting, and storing eco-friendly energy such as wind power, solar power, and hydrogen.
The EN-S355 standard plate product, which received a 'Type and component certification of wind turbines', implemented the world's first uniform yield point (YP) made at Gwangyang Works, which represents the first thick-plate product certified by DNV, according to POSCO.
"Recently, as wind towers have become larger, the thickness of the plate is generally increased to support the load of the structure but POSCO's uniform yield point plate for wind towers can maintain 355 MPa strength up to 100mm thick, reducing the use of steel by about 3% when applied to wind towers of 10MW or more", POSCO states.
The company says that its solution can cope with the increase in the quantity required due to the increase in the wind turbine size, as well as the raw material price, because the manufacturing cost does not differ much compared to the existing steel materials. This, in turn, is expected to lead to meeting the demand in the wind industry to reduce levelised cost of energy (LCoE).
"We will establish a supply system of high functional plates for wind such as processing certification of plate products for substructures with improved performance", said Eul-son Park, Head of Energy and Shipbuilding Materials Marketing Office of POSCO. "In the future, the customer expects to be able to reduce the use of steel for towers and substructures by about 10% under the same design conditions".
POSCO also says it will focus on the rapidly increasing global demand for steel products in the offshore wind sector.
POSCO Group, one of the largest conglomerates in Korea, has also been actively pursuing offshore wind and green hydrogen projects over the last two years.
In May this year, the group's energy company, POSCO Energy, signed an agreement with Copenhagen Infrastructure Partners (CIP) on working together on the development of offshore wind projects, cooperating on supply chain development for offshore wind, and developing a green hydrogen business.
Last year, POSCO Group signed a Memorandum of Understanding with Ørsted to strengthen collaboration on offshore wind and renewable hydrogen in Korea.
Under this MOU, POSCO and its affiliates will apply the group's joint capabilities to support the development of Ørsted's 1.6 GW offshore wind projects off the coast of Incheon City. The agreement also includes conducting feasibility studies on potential collaboration between Ørsted and POSCO on renewable hydrogen.
Follow offshoreWIND.biz on: