Vattenfall Places Esbjerg as Its 'Logistics Capital' With New Port Expansion
Vattenfall has opened its new international central warehouse at Port of Esbjerg in Denmark which will serve not only Danish but also Dutch and British offshore wind farms.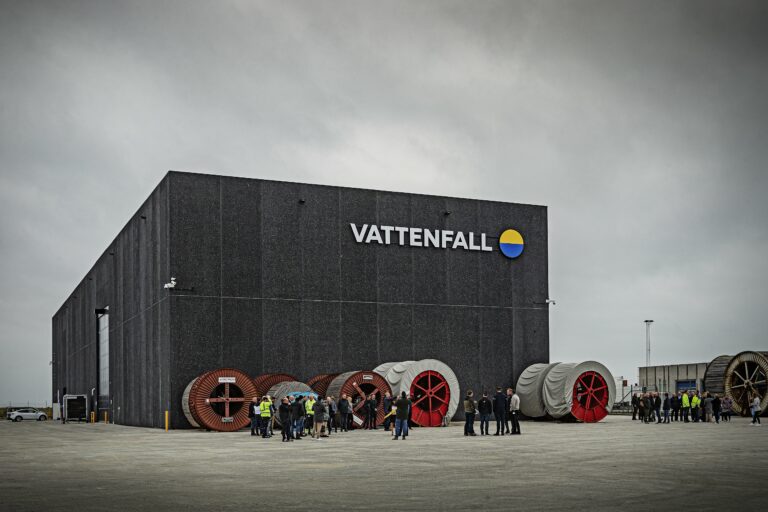 Vattenfall's new international central warehouse facilities cover a 2,220 square metre indoor warehouse and an outdoor storage facility of approximately 10,000 square metres.
Vattenfall's warehouse at Esbjerg is opened to ensure fast delivery of main components such as cables, blades, cable reels, and generators to the energy company's offshore wind farms when required, Port of Esbjerg said.
The warehouse features a crane that has a lifting capacity of 130 tonnes and solar panels that are installed on the roof which will generate around half of the warehouse's energy needs.
With the location of the new central warehouse, Esbjerg is now officially Vattenfall's logistics capital of offshore wind, Port of Esbjerg said.
According to the Port of Esbjerg, the opening is a result of the growth in offshore wind in the North Sea and the Port of Esbjerg's central location and extensive know-how.
Vattenfall constructed Horns Rev 1 in 2002 with 80 wind turbines and an installed capacity of 158 MW, DanTysk from 2014 also with 80 wind turbines and a capacity of 288 MW, Sandbank with 72 wind turbines and a capacity of 288 MW in 2017, and Horns Rev 3 with 49 wind turbines and a capacity of 407 MW from 2019.
All in all, 281 wind turbines and a capacity of 1,141 MW were installed and shipped from Esbjerg.
In September, the Port of Esjberg, together with five other key ports, forged an alliance to resolve capacity issues that already exist and are set to become even more pressing as offshore wind goals agreed under the Esbjerg Declaration could bring faster buildout of offshore wind farms.
When it comes to Vattenfall, the company submitted a bid in July for the Hollandse Kust West offshore wind tender in the Netherlands.
A few months later, Vattenfall exercised its step-in-rights- to develop a 980 MW offshore wind farm in the N-7.2 zone in the German North Sea after RWE won the tender with a zero-subsidy bid.
Vattenfall operates a total of 12 offshore wind farms in northern Europe with a total installed capacity of 2.6 GW of fossil-free electricity equivalent to the annual consumption of 2.6 million European households.
In addition, Vattenfall is in the process of constructing offshore wind farms in the Netherlands and in Denmark with a combined capacity of 1.8 GW, and the energy company is participating in various tenders and development projects in the region.
Follow offshoreWIND.biz on: