Foundation Installation Starts at Saint-Brieuc Offshore Wind Farm
Installation of jacket foundations has started at the site of the French Saint-Brieuc offshore wind farm, the country's second project of this kind and the first to use jacket foundations.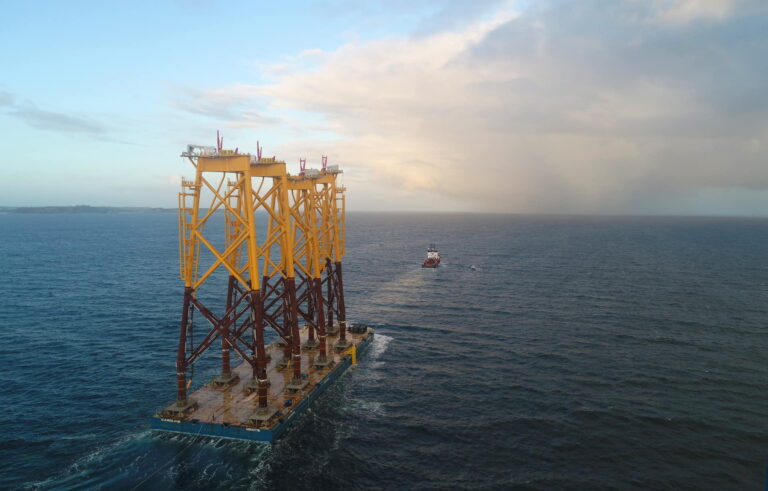 Five vessels have been mobilised for this work. Seven Borealis is being used for the lifting and installation of the foundations, North Sea Giant for sealing, and three tug vessels (Kamarina, Eraclea, Onyx) and two barges (Sarens Caroline, H401) have been deployed for transport operations.
The vessels were mobilised and are being operated from the maritime coordination center located in Pleudaniel, Côtes d'Armor.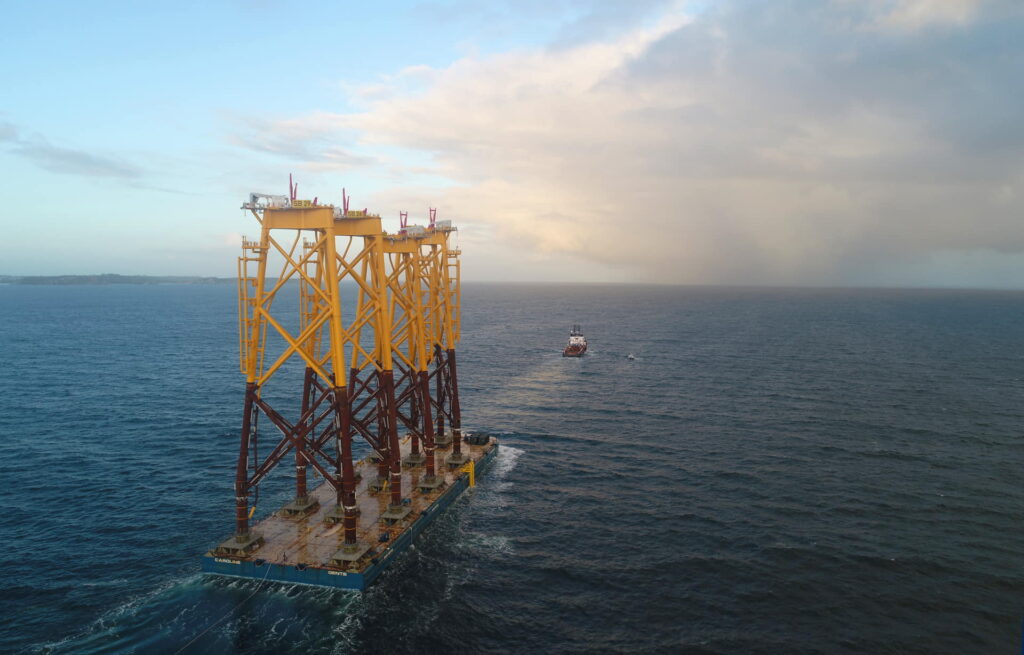 The 496 MW offshore wind farm, expected to be completed in 2023, will have 62 jackets that will support Siemens Gamesa 8 MW turbines.
The foundations are being delivered by the Spanish companies Navantia and Windar, which sent off the first batch earlier this month.
Saint-Brieuc is the first offshore wind farm in France to be equipped with jacket foundations, following the developer's decision from 2014 to use this type of foundations after the feedback from a consultation process with sea users and, in particular, professional fishermen.
Their lattice structures have a limited impact on the environment and will facilitate the circulation of water masses and biodiversity while promoting the artificial reef effect, according to the developer Ailes Marines, a wholly owned subsidiary of Iberdrola.
Ailes Marines said that it was continuing with security measures and environmental monitoring during this phase of work as well.
The partnership with the Documentation Center for Research and Experimentation on Accidental Water Pollution (CEDRE) has made it possible to consolidate an anti-pollution system during the construction phase of the wind farm, with the implementation of new protocols, means of response, and equipment, according to the developer.
This system was tested during full-scale sea trials in the presence of CEPPOL (Centre of practical expertise in pollution control) and CEDRE at the beginning of 2022, Ailes Marines said.
Furthermore, during this phase of the work, two surveillance and information vessels are constantly on site.
In addition, the environmental monitoring measures for various fields (turbidity, fishing, marine mammals, birds, acoustics, etc.) are continuing during all the phases of installation of the wind farm's major components.
Last year, after the vessel Aeolus started installing the pin piles for the jacket foundations and halted the work due to a hydraulic fluid leak from its drilling equipment, the developer announced that it had signed an agreement with CEDRE which provides a framework for the prevention aspects of pollution response (strengthening of procedures, planning, exercises).
The agreement also provides for close cooperation in the event of an intervention and for the training of the personnel involved.
The 496 MW offshore wind farm is located in the Bay of Saint-Brieuc in Brittany, 16.3 kilometres from the Breton coast. Once operational next year, Saint-Brieuc wind farm will produce 1,820 GWh of electricity per year.
Follow offshoreWIND.biz on: