Korea Floating Wind Partners with East-West Power
Korea Floating Wind (KF Wind) has signed a Joint Development Agreement Term Sheet with Korea East-West Power, a state-owned generation company in Korea, for a collaboration on the development of floating offshore wind sites off the coast of Ulsan.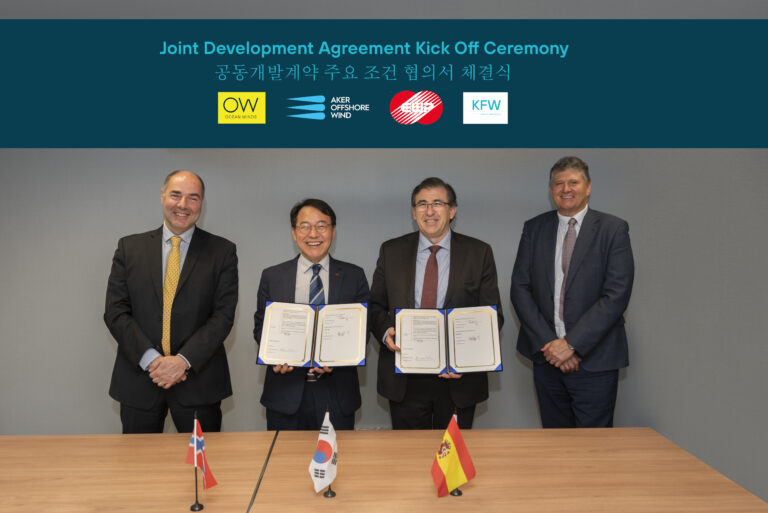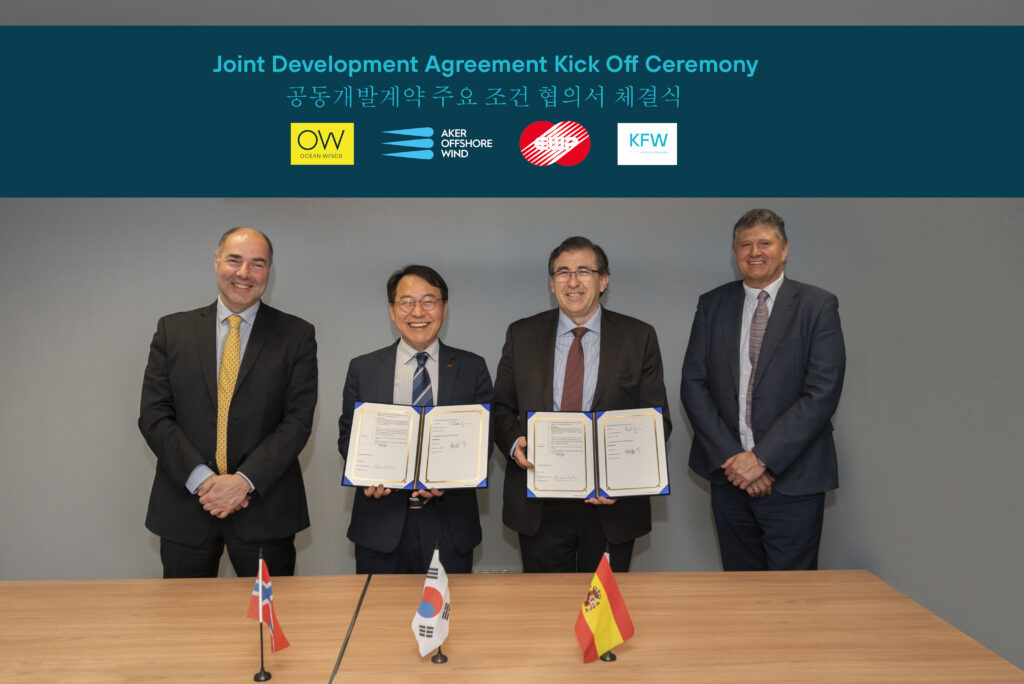 As reported, KF Wind, a joint venture between OW Ocean Winds and Aker Offshore Wind, is developing a 1.2 GW floating wind farm offshore Ulsan and has recently obtained Electric Business Licenses (EBL) for the project.
Philippe Kavafyan, Chief Executive Officer of Aker Offshore Wind, said at the time that the joint venture was on track to build the world's first industrial-scale floating offshore wind farms by 2028.
The Term Sheet is the first step that will be matured as the project progresses towards the final investment decision (FID) which is expected in 2024.
"The collaboration with East West Power is a key factor in KF Wind's path towards FID as it will enable the project to secure a fixed tariff for a period of 20 years. East-West Power, a state-owned company with over 9 GW of generation assets and headquartered in Ulsan, is the best partner we could conceive and will bring a lot of new capabilities to the project," said Guzmán Figar, Project Director for KF Wind.
The collaboration includes the option for East-West Power to participate in the project as a shareholder and to provide a long-term offtake agreement for the Renewable Energy Certificates produced by the project.
"Now we are learning, thanks to the visit and preliminary discussions of this JDA, how LCOEs can be reduced and how important floating offshore wind will be for the Korean economy. We are thankful to kick-start such a promising partnership," said Young Moon Kim, CEO of East-West Power.
This Term Sheet is non-binding and will be further developed in a joint development agreement which will be presented to the central authority next year, KF Wind said.
EDP Renewables, which established Ocean Winds together with Engie, and Aker Solutions invested in the development company Korea Floating Wind Power (KF Wind) back in 2019, when they joined the founding shareholder WindPower Korea. Now, Ocean Winds and Aker Offshore Wind hold 66.7 per cent and 33.3 per cent of the company, respectively.
At the beginning of that year, KF Wind signed a Memorandum of Understanding with the City of Ulsan to cooperate on the development of floating wind projects and support the industrial development of the Ulsan region to serve as a manufacturing hub for domestic and export offshore wind markets.
KF Wind has secured three potential wind sites off the City of Ulsan, which could potentially accommodate floating wind farms with a combined capacity of up to 1.5 GW.
Follow offshoreWIND.biz on: