All Foundations Installed at Saint-Nazaire Offshore Wind Farm
DEME Offshore, using its installation vessel Innovation has now installed all 80 foundations at the Saint-Nazaire offshore wind farm in France, the industry's first project to employ drilling to install XL monopiles.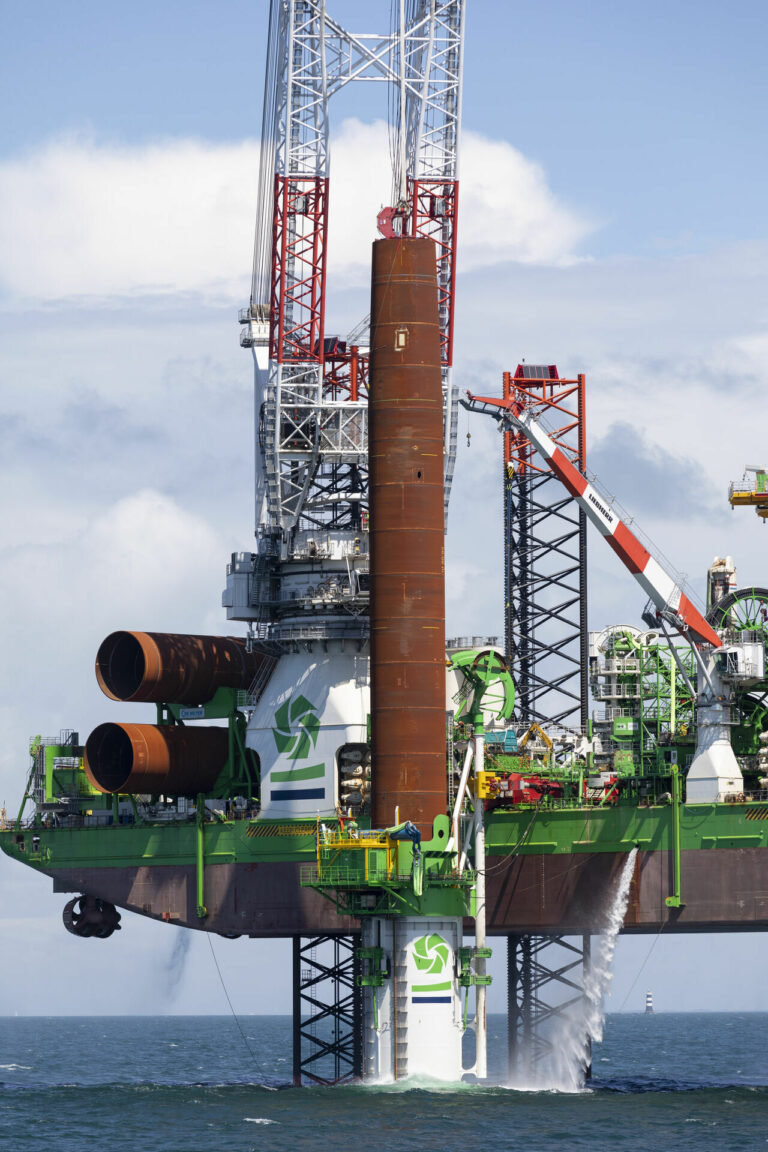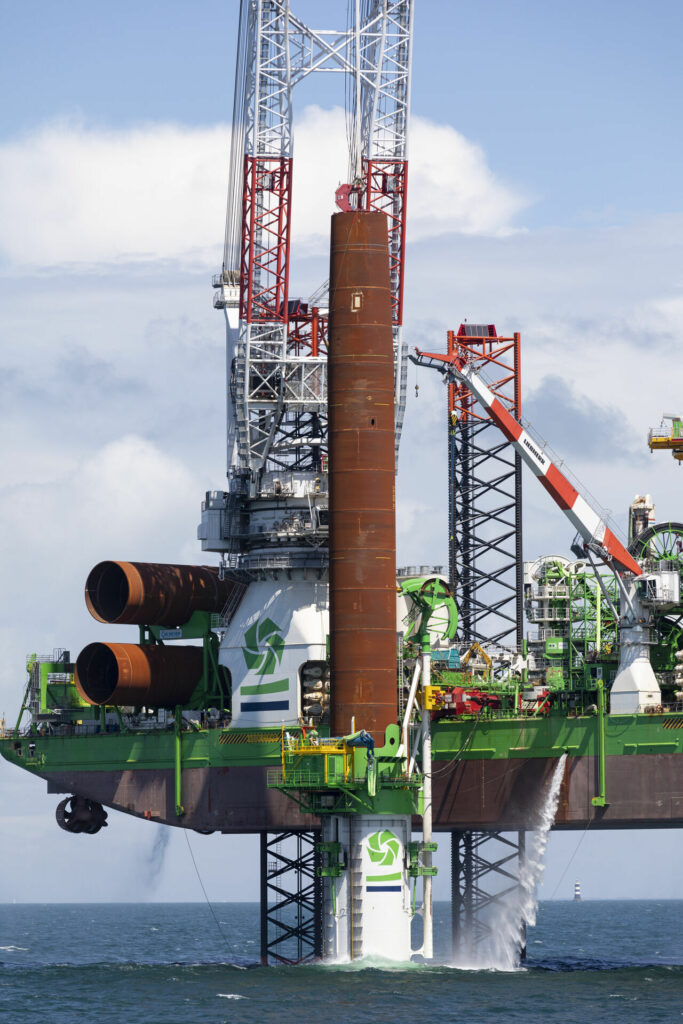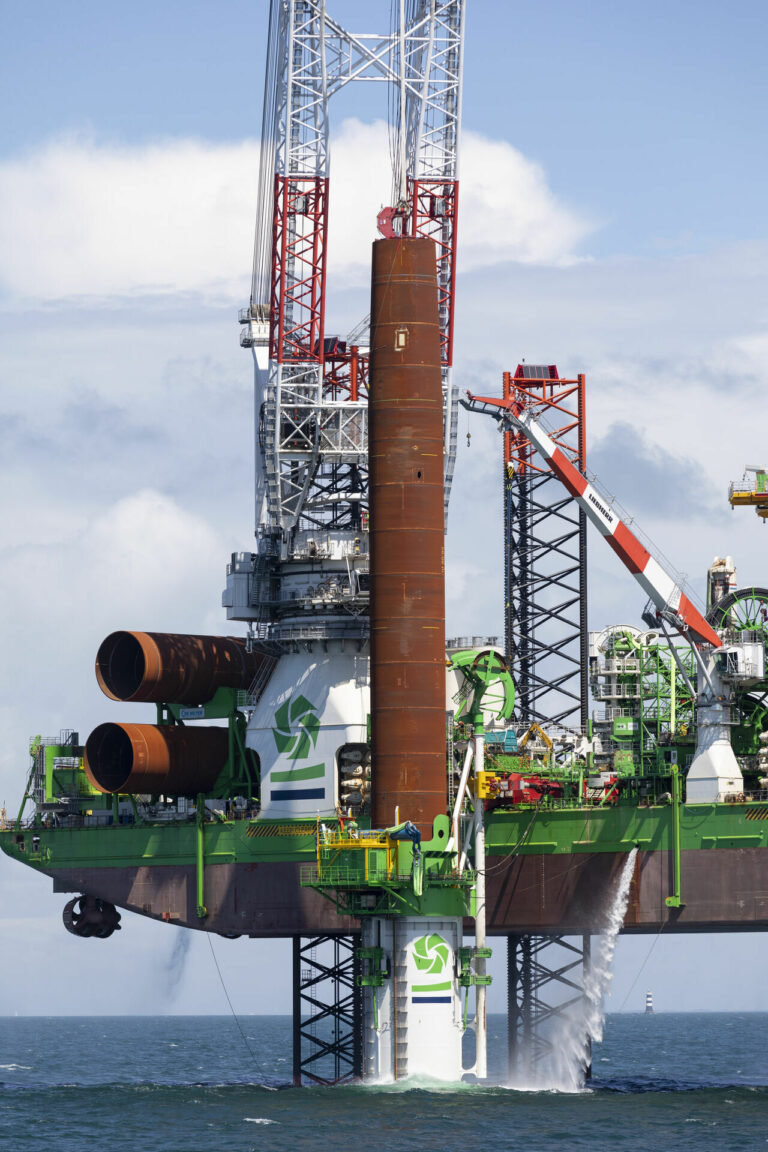 Eolien Maritime France (EMF), the consortium that owns the wind farm, awarded an EPCI contract for the 80 foundations to DEME Offshore and Eiffage Métal in 2019. The scope included the design, fabrication, transportation, and installation of the foundations.
The same year, Eiffage Métal placed an order with Sif for the delivery of the 80 monopiles and primary steel for the accompanying 80 transition pieces.
The jack-up vessel Innovation put the first monopile in place in May 2021 and reached the halfway mark in November last year while in the meantime, in August 2021, DEME also installed the project's offshore substation, the first to be installed in France.
According to DEME, 73 of the wind farm's XL monopiles have to be drilled through the calcarenite rock at the project site, located between 12 and 20 kilometres off the coast of the Guérande peninsula, which represents an industry first.
For the installation work, DEME Offshore has, for the first time, deployed its 350-tonne Offshore Foundation Drill (OFD) and MODIGA, a solution which allows encapsulating the drilling and installation operations and shields them from the adverse Atlantic marine conditions, according to the company. The OFD was developed together with Herrenknecht, while for the design and development of MODIGA DEME teamed up with TMS.
"Deploying this world's first equipment enabled us to complete the installation well ahead of schedule. Installation operations continued through the winter season, despite the combination of severe weather conditions and the harsh Atlantic ocean environment", said Bart De Poorter, General Manager DEME Offshore.
"At Saint-Nazaire, our teams and crew have not only gained substantial experience for the next offshore wind farm projects at the French coast, but also to successfully carry out installation works in similar challenging conditions across the globe."
DEME Offshore and Eiffage Métal said that to execute their contract they had involved more than 200 companies from Pays de Loire and France, mainly small and medium enterprises.
The Saint-Nazaire offshore wind farm, also known as Parc du Banc de Guérande, will comprise 80 GE Haliade 150-6MW turbines, the first of which was installed last month.
The 480 MW Saint-Nazaire offshore wind farm is scheduled to be commissioned this year, when it will become the first commercial-scale wind farm installed in French waters.
The project consortium Eolien Maritime France (EMF) comprises EDF Renouvelables, Enbridge, and Canada Pension Plan Investment Board.