France's First Offshore Substation Touches Down
DEME has installed the first offshore substation (OSS) in France at the Saint-Nazaire wind farm off the Guérande peninsula.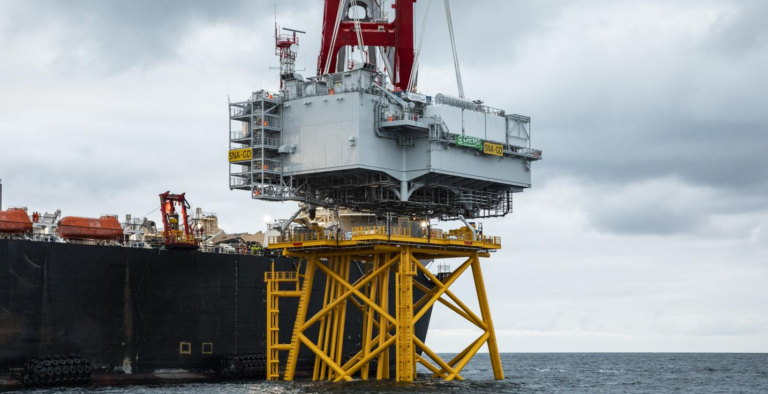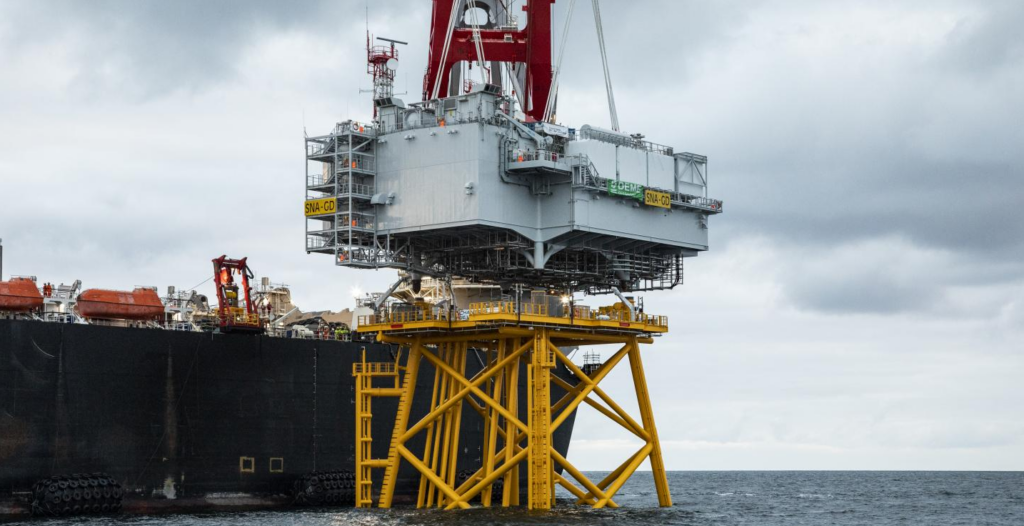 Weighing 2,100 tons, the OSS topside was installed at the site on August 18. The substation's jacket foundation was installed earlier this week.
The electrical substation was constructed by a consortium including Atlantique Offshore Energy, the business unit of Chantiers de l'Atlantique dedicated to Renewable Marine Energies, GE Grid Solutions, and DEME Group's French subsidiary SDI.
The 480 MW Saint-Nazaire offshore wind project is being developed by EDF Renouvelables and EIH S.à r.l, an indirect subsidiary of Enbridge Inc., and CPP Investments.
Scheduled to be operational in 2022, Saint-Nazaire is the first commercial offshore wind farm installed in French waters. It will comprise 80 GE Haliade 150-6MW turbines and the offshore substation installed between 12 and 20 kilometres off the coast of the Guérande peninsula.
Installed with the Pioneering Spirit, the 480 MW substation is (H) 15 m x 27 m x 39 m, while the jacket is 26 m x 26 m x 48 m (H) and weighs 1,250 tons.
The ACS division of GE Grid Solutions, located in Saint-Priest, France, designed and integrated the high and medium voltage systems. Those include five 220 kV gas-insulated switchgears from Aix Les Bains, France, two 220/33kV transformers manufactured in Monchengladbach, Germany, two SCADA systems developed in Montpellier, France, and one 33kV gas insulated switchgears and a telecommunication syste
DEME Offshore carried out the transport and installation of the OSS, including the offshore pre-piling works.
Chantiers de l'Atlantique is responsible for the topside and jacket foundation design, manufacturing, and commissioning. GE Grid Solutions is responsible for the high voltage electrical equipment and protection control systems design, manufacturing and commissioning.
"The construction and installation of the OSS is the result of strong cooperation between the consortium members, with each partner bringing its expertise and highest level of execution to the project, enabling us to meet the stringent quality, safety and environmental standards," Bart De Poorter, General Manager DEME Offshore Renewables, said.
"As a result of this cooperation, we were able to design, fabricate and install the OSS in only 26 months, which is an incredible achievement and testament to the collaboration with our partners."
The same consortium responsible for Saint-Nazaire has also been selected by Eoliennes Offshore des Hautes Falaises et Eoliennes Offshore du Calvados to design, manufacture and install the electrical substations for the Fécamp and Calvados (Courseulles-sur-Mer) wind farms in Normandy, France.