China's Hainan Province Plans to Create EUR 7 Billion Offshore Wind Supply Chain
Chinese province of Hainan has issued an offshore wind supply chain development plan which includes creating a RMB 50 billion (around EUR 7 billion) worth supply chain industry by 2025 through building an industrial park and two manufacturing sites that will support offshore wind deployment.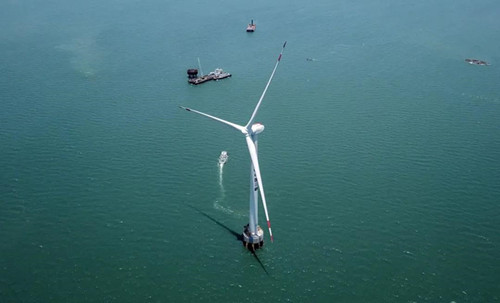 The plan sees Hainan's offshore wind manufacturing industry backing the province's own offshore wind buildout as well as exporting to the Beibu Gulf Economic Belt, Southeast Asia and other regions.
The Hainan Provincial Wind Power Equipment Industry Development Plan (2022-2025) is aiming to set up coordinated industrial development by focusing on the development of the equipment manufacturing industry around wind farms. This can facilitate cost reduction and easier transportation, and is favourable for agglomeration of professional services, upstream and downstream industrial chains, as well as construction, operation and maintenance, and other industries, according to the news on the Chinese Government's website.
The plan is based on the idea of ​​concentrating as much as possible on the spatial layout and construction of the wind power industrial park, combined with the province's offshore wind farm planning, and fully considers the province's industrial aspects, park positioning, port transportation and other factors. The overall spatial layout of the industrial development includes the Western Offshore Wind Power Industrial Park and two Offshore Wind Power Equipment Manufacturing Bases, one in Dongfang and one in Yangpu.
The equipment manufacturing bases are planned to be built by 2025.
According to the Hainan's Provincial Department of Industry and Information Technology, the offshore wind and its equipment manufacturing industry can contribute to low energy consumption, low emission, high technology content and high added value in in Dongfang and Yangpu, whose industrial structure is dominated by the oil and gas industry.
According to information from the beginning of this year, China is now leading in terms of both installed and connected offshore wind capacity after the country connected a total of 16.9 GW of offshore wind capacity to the grid in 2021.
Follow offshoreWIND.biz on: