First Asia-Pacific Offshore Wind SOV Enters Service
Ørsted and Ta San Shang Marine Co. Ltd. have held a christening and naming ceremony at the Port of Taichung for TSS Pioneer, the first-ever purpose-built service operation vessel (SOV) in the Asia-Pacific region.
TSS Pioneer will be deployed on Ørsted's 900 MW Greater Changhua 1 & 2a wind farms offshore Taiwan in the operations and maintenance (O&M) phase.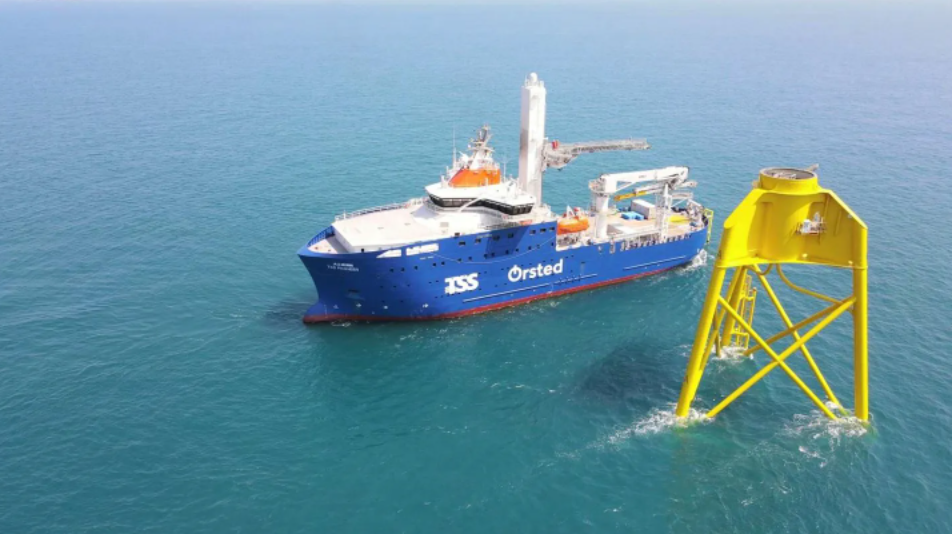 "Ørsted has again demonstrated our pioneering role in Taiwan's offshore wind industry with the launch of TSS Pioneer, as we are the one and only to introduce the state-of-the-art technology to ensure professional and efficient operation for our offshore wind farms," Christy Wang, General Manager of Ørsted in Taiwan, said.
"Ørsted outlined a clear vision few years ago to bring in world-class capabilities and foster a strong local offshore wind industry. In the O&M scope, we took the initiative further through signing the 15-year contract with TSS. Today's ceremony marks the beginning of the long-term, value-creating and knowledge gaining O&M business for TSS, as well as our strong partnership."
TSS Pioneer is the first Taiwan-flagged SOV customized to meet the specific requirements of the Greater Changhua offshore wind farms and Taiwan Strait conditions.
"The deployment of the bespoke SOV, TSS Pioneer, is at the core of our capabilities to perform reliable and efficient O&M services to the highest levels," Andreas Munk-Janson, Head of Operations for Ørsted Asia-Pacific, said.
"Ørsted has recruited and trained an outstanding Taiwanese O&M team who will help fulfil local energy ambitions in the decades ahead. Ørsted will bring world-class O&M expertise and capabilities to Taiwan and Asia Pacific, delivering the highest performance, quality and reliability for wind farms, whilst providing a safe working environment."
The SOV has a length of 85.48 metres, breadth of 19.5 metres, maximum scantling draught of 5.6 metres, and can safely withstand up to 2.5 metres in wave heights.
Moreover, TSS Pioneer weights 5,872 tonnes, equals to approximately the weight of 31 crew transfer vessels, providing sufficient space and comfort for the O&M team and crew. It has a deadweight of 2,611.6 tonnes for storing supplies and equipment. The vessel features 60 single cabins for O&M technicians and 27 cabins for the vessel crew.
Finally, TSS Pioneer is equipped with several advanced technologies, such as a motion-compensated gangway to enable technicians to "walk to work," a dynamic positioning system and a 3D motion-compensated crane to mitigate wind induced motions and strengthen work safety and efficiency.
Hrong-Nain Lin, Chairman of Ta San Shang Marine Co. Ltd, said: "Ta San Shang Marine is very pleased to support Taiwan's clean energy goals, and work with Ørsted to build the 'TSS Pioneer' for the Greater Changhua offshore wind farms. Moreover, we feel proud to pioneer the local vessel industry to embrace new opportunities for offshore wind farm operations."
Follow offshoreWIND.biz on: