Cerulean Winds: Lamprell Would Utilise Local Supply Chain, 3 GW Floating Wind Project Requires No Subsidies
Should Cerulean Winds' 200+ turbine floating wind project be selected in the upcoming auction in Scotland, Dubai-based manufacturer Lamprell – which signed a Memorandum of Understanding (MoU) for the project with its preferred Tier 1 supplier NOV – would deliver its part of the project out of the UK and utilise local supply chain, the developer said.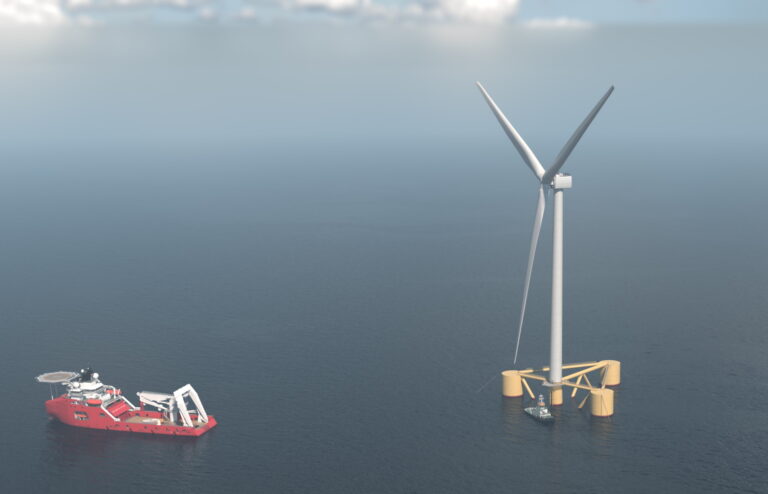 Following reaction from the UK energy workers' union GMB – which criticised the agreement and said jobs and investment that could contribute to the Scottish and UK economy are going overseas – Cerulean Winds pointed to the announcement of the MoU in which NOV and Lamprell stated they would engage with local supply chain and plan to enter in discussions with UK yard(s) that can offer suitable solutions.
"We welcome the MoU between NOV and Lamprell and their commitment to our ambition of supporting the development of the UK supply chain to capitalise on the opportunity presented by INTOG", said Dan Jackson, founder of Cerulean Winds.
In a comment to offshoreWIND.biz, a spokesperson for the company pointed out that if the proposed project is selected in Scotland's upcoming Innovation and Targeted Oil and Gas (INTOG) offshore wind leasing process, Lamprell would deliver its part of the project out of the UK.
To be able to build a project of this scale and other INTOG and ScotWind projects, significant investment needs to be made in the capabilities of the local supply chain, according to Cerulean Winds, which said NOV and Lamprell agreed to invest and provide support on helping the UK/Scottish supply chain to build out this capability.
"Our basin-wide scheme for decarbonising oil and gas assets through offshore floating wind, which is going through the INTOG process, requires significant fabrication capacity and expertise. We are pleased this capacity is currently being developed with substantial financial investment and Scottish government support in Scotland", Dan Jackson said.
"To deliver at pace and at scale, we are working with prime contractors, such as NOV, in readiness to be able to deliver our proposals for INTOG this summer, this will include an unprecedented approach to build out the supply chain in Scotland for INTOG, ScotWind and beyond".
In relation to comments on subsidising renewable energy projects, Cerulean Winds also reiterated that the 3 GW floating wind development does not require government subsidies or Contracts for Difference.
The spokesperson for the company added that the development represents up to GBP 10 billion (around EUR 11.62 billion) of potential investment in a single strategic infrastructure project with no requirement for government subsidies but the potential to bring in more than GBP 300 million (around EUR 363 million) in direct government revenue via leases and taxation through to 2030.
The 3 GW floating wind development, which would be built across three sites of 1 GW of capacity each, is planned to power both offshore oil and gas assets as well as onshore green hydrogen production with 200+ floating wind turbines.
According to Cerulean Winds, the project's 200+ floating wind turbines have the capacity to abate 20 million tonnes of CO2 per year and safeguard 160,000 current jobs in oil and gas, with 200,000 new roles in floating wind and green hydrogen created in the next five years.
Follow offshoreWIND.biz on: